THE MYSTERONS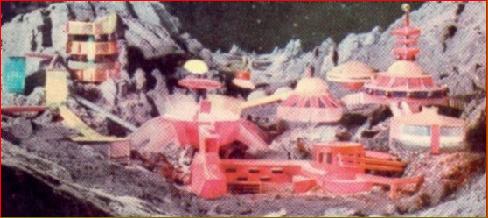 Possible world origin: "Mysterion", Greek for "keeping silent" or "closed of the eyes or mouth". For example, Conrad Turner, Captain Black, never was much of a talker once the Mysterons got their "hands" on him. The Mysterons' "war of nerves" is also mostly based on their first issuing a clued statement for the Earthmen to solve and then their total
silence after this.
The Mysterons first came to the attention of Earth in February of 2068, when Captain black, as Spectrum's number 1 Agent and ex-world Space Patrol member, was the automatic choice of the World Government when the decision was made that a Solar System Exploration Centre expedition should journey to Mars in order to investigate strange radio signals picked up by Spectrum (see episode 1). There an SSEC crew of two (co-pilot, Lieutenant Dean, and space navigator Conway), with Captain Black as team leader, took a Martian Exploration Vehicle down onto the planet's surface. Black's mission was basically to seek out and examine the source of these mysterious wave forms, detected in the Rock Snake hills area. There they find a series of alien buildings, apparently deserted of organic life, though a mechanism operates which turns the complexes scanning devices to view the MEV as it comes into range. The complex is apparently controlled entirely by sentient computers, left behind by the real Mysteron race. The Mysterons aims are, apparently, simply to observe at a distance and make peaceful contact with the Earthlings. But peace was not to be, as in a moment of panic, Lieutenant Dean mistakes these scanners as weapon emplacements, shouts, "They're obviously hostile!" and Black, his nerves cracked, commands Dean to open fire upon the city of the Mysterons. This attack upon the Mysteron complex became the first blow in a devastating "war of nerves". The Mysteron' s city is destroyed, though mechanisms activate and a "green ray" device shines upon the remains mysteriously recreating it in an instant, as if reversing time upon the ruins. When the Zero-X returned to Earth, and Black vanished after the craft reached Glenn Field Spaceport, it wasn't long after this that the people of Earth received their first threat form the Mysterons from Mars.
Two base complexes are known to have existed, created by the Mysterons. The interior of the first, sited on the Cranium, rock plateau in the Rock Snake hills of Mars, was never seen by human eyes (though no information is available as to what happened to Captain Black), so as yet it is impossible to gauge any information concerning the Mars complex (episode 1). Though we do have some data, gathered by Captains Scarlet, Blue and Lieutenant Green, of the Mysteron complex in Crater 101 of Earth's Moon (episode 18). Evidence from which suggests that there were no Mysteron creatures still living in the Luna complex and that the place was run entirely by computers. Which also raises the question of "Why build a new complex on the moon when the Mysterons had already taken control of Lunarville 7 itself? The Luna complex also shows many facilities designed for use by an inhabiting life form. For example, anti-gravity lift shafts and viewing screens. So is it entirely possible that this Luna complex was built simply as a trap for the Earthmen?
Where the Mysteron race originally came from may possibly never be known. Though we may assume two things. Thatů

1. Many thousands of years ago, some original, organic members of the Mysteron race, from some as yet undisclosed star-system, travelled through space and eventually settled on Mars. Building for themselves a new city-based community.

2. The Mysteron's Martian complex cannot be their only base. As using some of their own communications as a basis, name it as "Our Mars complex" or "Martian complex" as if other cities belonging to them existed elsewhere.

One theory exists (supported by the scenes of the Spectrum members inside Crater 101) that the original, organic life form, the true Mysterons, have abandoned their Martian complex leaving this city solely in the control of their sentient, heuristic computer systems (circa 1901, Earth time).
The Mysterons greatest weapon and defence is their power of retro-metabolism (the secret of reversing matter, episode 1). Allowing them to both repair any damage sustained to their city complexes, and to recreate/repair any human subject or piece of equipment in an exact likeness under their control. Origin of the word: Latin for re-intro "going backwards" or "turning in a reverse direction". Greek meta or para "Something situated behind" or "Beyond the current status of an item". Plus bolism, the chemical changes occurring in living cells by which biochemical energies are generated and new materials to create such cells are assimilated. The Spectrum Saloon carrying Captains Brown and Scarlet on their way to escort the World President, to the Spectrum Maximum Security Building in New York, was made to crash by the Mysterons, killing them both. The Captains were then Mysteronised (exact duplicates, even down to their very memories, but under the control of the Mysterons were created) at the crash site, and the body of Captain Brown was hidden in the undergrowth at the crash site, presumably by his own Mysteronised duplicate (which what probably happened to the original body of Captain Scarlet, episode 1).
We might also presume that due to the artificial structure of any Mysteron agents, having far different chemical abilities, and likewise weaknesses, to normal human beings, that high voltage electricity might atomically restructure or disrupt the differing cell patterns of these "agents" just enough to damage their artificial bodies, causing their deaths (as seen in episode 9, "Operation Time"). This may also explain why the Mysterons lost their control over Flight 104, when the airplane flew over an electricity generation PowerStation (episode 23). This theory may also help to illustrate Scarlet's ability to distinguish between normal humans and the artificially created Mysteron agents, by these agents having atomic structures slightly "out of phase" enough with normal humans and his own structure that he becomes dizzy and/or nauseous in the presence of such agents. So that perhaps his own body coming into contact with that of a Mysteron agent may cause "interference" in some way like the opposite poles of two magnets pushing each other apart. It also seems that Captain black has the same sixth sense as Scarlet, when Black was able to detect the presence of the spectrum agents chasing him (episode 22).
The Mysteron agents are apparently not totally under the Mysteron's power. For example, when the Mysteronised controller of Lunarville 7 realises he has lost control of the Lunar city, he takes out an all too human revenge on the Speech Intelligence Decoder computer, SID (episode 12). Another example is the all too human greed and corruption of the tow Mysteronised conmen who try to enlist the supposedly ex-Captain Scarlet into their plan to destroy Nuclear City, Nevada (episode 20). Captain black himself also "appeared" to have some of his still-human side, when releasing Symphony Angel from the nuclear reactor of the Culver Atomic Centre, where he states "the Mysterons also have compassion" (episode 4), or his show of moral judgement upon the humans trying to rob the 2nd National Bank of New York ("Heart of New York").

NOTES: Mysteron agents' bodies, due to their chemical or radiation difference, are somehow impervious to x-rays radiation (see episode 9), which has permitted Spectrum Research Centre to build a "Mysteron Detector" ("Spectrum Strikes Back"). The instrument, working just like a Polaroid camera, takes simple picks of suspected Mysterons. If the suspect is human, it will be a X-ray photography. If, however, the suspect is indeed a Mysteron replicate, the detector will produce a regular, positive pick. A photography of Captain Scarlet, due to his initial Mysteronisation, appears as a positive identification (still in "Spectrum Strikes Back"). It is also worth noting that in episode 23, Captain Scarlet photographs as a black silhouette, when photographed by a normal camera. It is however noted that in episode 4 ("Manhunt"), Captain Black photography by a hidden camera in the Culver Atomic Centre is quite normal.