| | |
| --- | --- |
| | Craft and Equipment: YELLOW FOX |
CAPTAIN SCARLET and the MYSTERONS UNOFFICIAL WEBSITE

by Chris Bishop
Information in the following has been taken from many sources, especially from "CENTURY 21" No.15, Winter 1993, Special Captain Scarlet Issue" and "Captain Scarlet and the Mysterons comics, March 11th 1994, No. 10."
YELLOW FOX, GASOLINE TANKER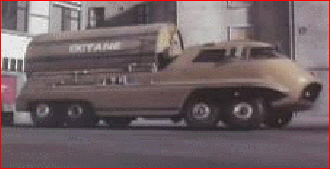 Data from Spectrum files withheld. Because of security reasons, the Spectrum organisation will not release many of the specific details of the Yellow Fox VIP, personal security transporter.

Known facts: Clean of any markings to link it to Spectrum. that vehicle is an unarmed, high security vehicle disguised as an Octane, liquid fuel tanker. Specially converted into a fully operational conference centre and also provide safe carriage for threatened VIPs. With combined hydraulic "drawbridge" entrance hatch/ladder at the rear leading into a plush interior. The Yellow Fox transporter is powered by a special form of fuel from the Spectrum refinery at Bensheba, driving the 12 wheels (a 4 X 1, front; and 4 X 2, rear), and can attain top speeds of 120 MPH.

The Fox is an eight seater vehicle (two persons as driver and co-driver, with six as passengers; it can however carry up to ten people (if additional seating is employed) constructed by an unnamed firm for the Spectrum organisation. Yellow Fox is presumable made from bullet/rocket-proof, hardened Fleetonium allow (with internal "roll-cage" and bracing). With luxury fixtures and fittings for passengers comfort, such as coffee table, wall vending machines and wine cabinet, etc. The tanker is also painted a distinctive bright Yellow colour.

Interior of the Yellow Fox Transporter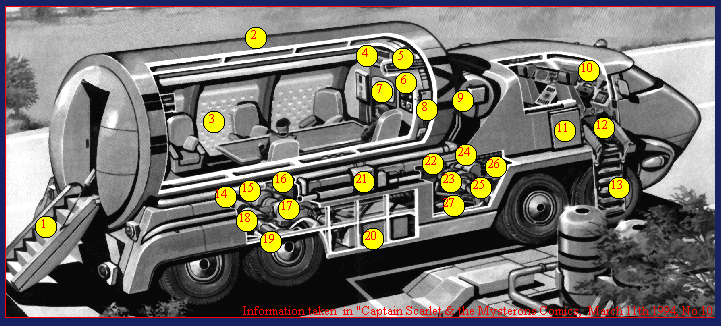 TECHNICAL DATA

Armoured hermetically sealing entry/exit hatch.

Cahelium-strengthened double-walled VIP passenger lounge, disguised as a fuel tanker.

Interior cabin padding, reduces impact injuries for passengers if vehicle is attacked.

Atmosphere filter and ventilator.

Lighting strip with integrated sensors recording atmosphere temperature and pressure, with smoke and radiation detectors.

Internal environment controls, and communications console.

Video communications monitor and TV receiver.

Life support systems located between tank walls regulate atmosphere intake.

Emergency air tank.

Pressurised driver's cabin.

Starboard sliding door

Hydraulic exit ladder system, normally located under driver's cabin floor when not in use.

Fully extended starboard exit ladder.

Rear drive electric motor.

Electric Generator.

Port fuel tank.

Four of eight rotary diesel cylinders.

Bevel box and drive shaft.

Hydraulic braking drum.

Starboard fuel tank.

External air regulator and radiation filter.

Standby motor.

Main transverse diesel engine.

Gearbox.

Hydraulic brake drum and power assisted steering.

Carburettor.

Hydraulic damped link suspension.
CLOUDBASE - ANGEL AIRCRAFT - SPECTRUM PURSUIT VEHICLE (SPV) -
MAXIMUM SECURITY VEHICLE (MSV) - SPECTRUM PASSENGER JET (SPJ) - SPECTRUM HELICOPTER -
SPECTRUM SALOON CAR (SSC) - YELLOW FOX, GASOLENE TANKER - SPECTRUM DETECTOR VAN -
SPECTRUM HOVERCRAFT - SPECTRUM CLAM SUB - MAGNACOPTER
HOME | THE WORLD OF CAPTAIN SCARLET | CAST OF CHARACTERS | CRAFT AND EQUIPMENT | EPISODE GUIDE |
MERCHANDISING & TRADING | CAPTAIN SCARLET FAN FICTION | MISCELLANEOUS |
THE OTHER WORLDS OF GERRY ANDERSON | LINKS | SID DATABASE |
COMIC STRIPS PETITION | GUESTBOOK |
SKYBASE CENTRAL (CGI SERIES) | SPECTRUM HQ FORUM | UPDATES | NEWS PAGE
You can send your comments to:
scarlet1bishop@hotmail.com