SID Database first saw the light March 21, 2004.
An addition to the Spectrum Headquarters website, this sub-domain was created to provide space for fan fiction writers from various Anderson fandoms to see their stories posted online. At first, this space was offered specifically to the writers who had already written Captain Scarlet fanfic for Spectrum Headquarters.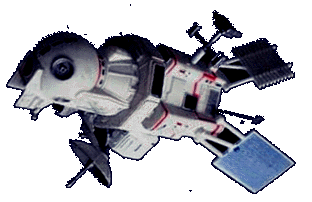 Only a handful of stories were presented to SID Database, and for a long time, the sub-domain remained untouched, almost forgotten, except for the links on the main site leading to it.
For Spectrum HQ's 10th anniversary, SID Database is now being revamped, and given a new lease on life. Its premiere mission remains: Writers from Spectrum HQ will still have the possibility to post their other stories here as well - but not only from Anderson fandoms other than Captain Scarlet. They will be offered the chance to post stories from any science-fiction fandom OUTSIDE of the Anderverse. For example, many of Gerry Anderson's dedicated fans are also fans of Doctor Who, or Star Trek, or The Champions, etc. If they so wish, their stories can be posted here, and a link will be added to their author's page on Spectrum HQ.
SID Database is now also open to writers who have not posted any Captain Scarlet stories on Spectrum HQ. But for these writers, the administration will ask that they remain within the Gerry Anderson many fandoms. And they are numerous and various, you can take your pick for any series: Thunderbirds, Fireball XL5, Joe 90, Space 1999, UFO, The Protectors, Supercar, and any of the other, more obscure series!
Fan fiction stories are welcomed, as well as essays and articles. You just need to contact the administration, using the email address spectrum_hq@hotmail.com. Present your submissions, and we will write you back.
The links below will take you to stories that you can presently find on SID Database.