On the side of Earth: Spectrum, with all its personnel, senior officers staff, Angels fighters pilots, field agent…and of course the indestructible Captain Scarlet, their number one agent.

On the side of the Mysterons from Mars: Captain Black, former number one agent of Spectrum, now wanted terrorist.

To read details on the following characters, please follow the link.
Details of all characters' backgrounds derive on one way or the other from "Century 21", through press handouts, annuals, comics strips, etc.) (Asterisks mark the pages that were updated with new layout and more material)
Produced for the website by the editorial team: Chris Bishop, Sage Harper, Hazel Kohler, Mary J. Rudy, Caroline Smith, Marion Woods, with contribution by Captain Yellow for the Japanese names page.

SPECTRUM PERSONNEL:
CLOUDBASE OFFICERS:

(updated, March 9, 2015)

(updated, March 9, 2015)

THE ANGELS:

(all updated, April 12, 2015)
SUPPORTING CHARACTERS:
(updated, March 9, 2015)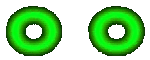 MYSTERON AGENT:

MISCELLANEOUS INFORMATION: