| | |
| --- | --- |
| | Craft and Equipment: DETECTOR VAN |
CAPTAIN SCARLET and the MYSTERONS UNOFFICIAL WEBSITE

by Chris Bishop
Information in the following has been taken from many sources, especially from "CENTURY 21" No.15, Winter 1993, Special Captain Scarlet Issue".
Captain Scarlet Annual 1968 have provided additional information, such as cutaway and picture.
SPECTRUM DETECTOR VAN
(SPECTRUM RADAR VAN)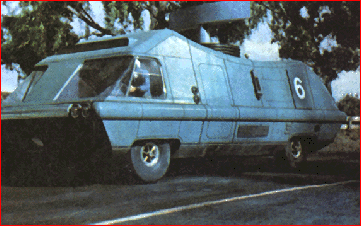 Data from Spectrum files withheld. Because of security reasons, the Spectrum organisation will not release many of the specific details of the Yellow Fox VIP, personal security transporter.

Known facts: Eight of these directional, long-range, Geiger counter vans exist. Which were used to detect and track the radioactive presence of Captain Black, after his break-in at the Culver Atomic Centre (episode 4). The large spinning "parabolic reflector" on the roof is used in conjunction with other vans, to triangulate the position of the intended target. These vehicles are powered by a special type of fuel collected by the Spectrum refinery at Bensheba. They are a five seater vehicle (two persons as driver and navigator, with three as passenger/technicians), constructed by an unknown firm for the Spectrum organisation. The vans are presumably made from conventional motor vehicle materials (with internal "roll-cage" and bracing) and are Blue in colour.

NOTES: Information given in episode 21, differs from data given in the official Scarlet annuals by stating that these Detector Vans are powered by Hydro-Genical fuel-injection cells, a combination of ambient air and the Hydrogenic fuel generates electricity to power the electric motors.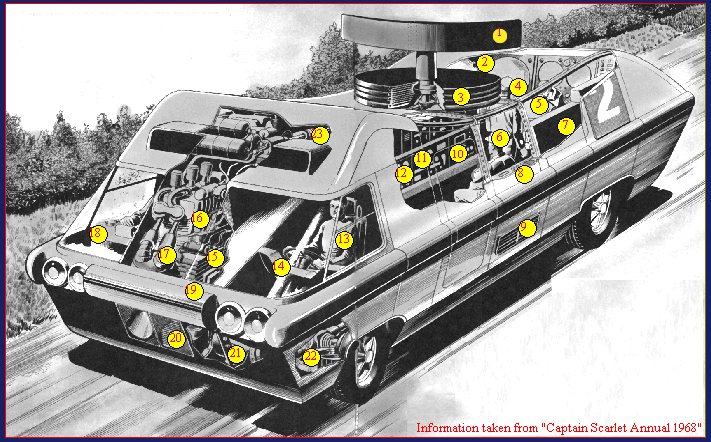 TECHNICAL DATA

Multiwavelengh antenna.

Twin screens show "blip" on back projected maps of search area. Can be set to different scales, or used for ground and sky picture.

Radar cooling unit.

Commanding officer

Monitor man observes primary scanners.

Systems engineer.

Communications unit

Air conditioning control.

Air conditioning outlet.

Waveform monitor.

Sync monitor

Cooler control panel.

Driver.

Dashboard.

Battery.

Multi-unit fuel cell generates electricity from combination of air, oxygen and hydrogen stored above cab.

Air intakes and filters served by front scoop.

Navigator's console. In direct touch with Cloudbase, he is responsible for plotting the most direct route to action stations, keeps a constant check on the map ref. Position of the vehicle; directs driver over intercom.

Reinforced crash-bar.

Radiator for water-cooled systems.

High powered motor (one each side) powered by fuel cell.

Steering arm and drive. This passes through gearbox and bevel drives serving both front and rear wheels.

Timing gear set on drive-shaft between motor and rotating unit below antenna.
CLOUDBASE - ANGEL AIRCRAFT - SPECTRUM PURSUIT VEHICLE (SPV) -
MAXIMUM SECURITY VEHICLE (MSV) - SPECTRUM PASSENGER JET (SPJ) - SPECTRUM HELICOPTER -
SPECTRUM SALOON CAR (SSC) - YELLOW FOX, GASOLENE TANKER - SPECTRUM DETECTOR VAN -
SPECTRUM HOVERCRAFT - SPECTRUM CLAM SUB - MAGNACOPTER
HOME | THE WORLD OF CAPTAIN SCARLET | CAST OF CHARACTERS | CRAFT AND EQUIPMENT | EPISODE GUIDE |
MERCHANDISING & TRADING | CAPTAIN SCARLET FAN FICTION | MISCELLANEOUS |
THE OTHER WORLDS OF GERRY ANDERSON | LINKS | SID DATABASE |
COMIC STRIPS PETITION | GUESTBOOK |
SKYBASE CENTRAL (CGI SERIES) | SPECTRUM HQ FORUM | UPDATES | NEWS PAGE
You can send your comments to:
scarlet1bishop@hotmail.com