| | |
| --- | --- |
| | Craft and Equipment: SPECTRUM HELIJET |
CAPTAIN SCARLET and the MYSTERONS UNOFFICIAL WEBSITE

Maintained by Chris Bishop
Information in the following has been taken from many sources, especially from "CENTURY 21" No.15, Winter 1993, Special Captain Scarlet Issue, and "Captain Scarlet and the Mysterons Comics", February 11th, 1994, No. 8.
Captain Scarlet Annual 1967 and Annual 1968, Captain Scarlet comic No. 6, 1991, and various other sources, have provided additional information, such as cutaways.
SPECTRUM HELICOPTER
(SPECTRUM HELIJET)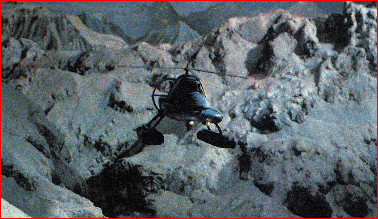 The Spectrum helicopters were designed primarily for high-speed transportation of personnel over short distances, particularly where rough and difficult terrain is involved, and for reconnaissance duties. Based on the World Army Air-force "Rotar" (Round Tail Rotor) heli-jets (2066), the Spectrum helicopters are usually armed with a single machine-gun, and are powered by seven air-feed mark II Windenown turbo-engines. The triple rotor-blades (for lift, travelling at 2,000 RPM), plus quad bladed ring-rotor for tail, are driving by two of these air-inducted turbo-jets. The helicopters are 45 feet long with 19 feet 6 inches wide each rotor-blade, giving a rotor-diameters of 39 feet), a weight of 36,000 Lbs (16.07 Tons). They have a flight ceiling of 40,000 feet (height of Cloudbase) and a top speed of 302 MPH. The spectrum helicopters are five seater vehicles, constructed at Universal Engineering Incorporated, Sydney, Australia. The helicopters are powered by fuel distilled from the Spectrum refinery at Bensheba, are made from Fleetonium allow and are Blue and White in colour. The landing legs are fitted with black floatation pods/pontoons for landing on water.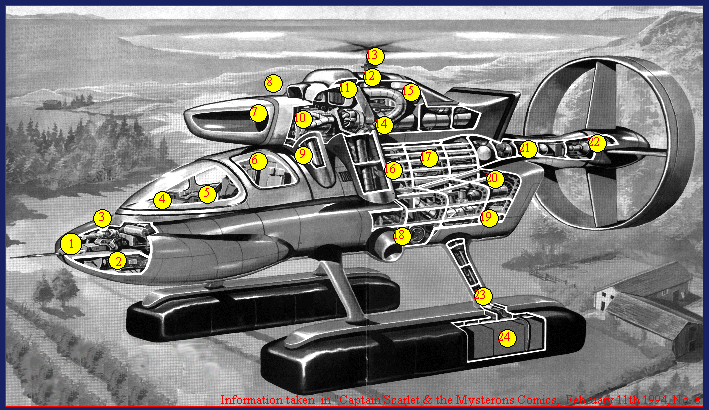 TECHNICAL DATA

Flight instruments measuring wind speed, air pressure and temperature.

Wide angle duel-dish radar system.

Variable gun attachment, normally carrying a high explosive rocket projectile launcher.

Control console, featuring LCD navigation screen and auto pilot situated directly beneath.

Central pilot' seat.

Passenger seats with service access to electronics bay and storage compartments.

Port air intake.

Air intake for gearbox cooling system.

Cabin air and pressurisation system.

Port turbojet driving rotor.

Gearbox transmitting drive from turbojets to rotor.

Rotor drive shaft housing.

Rotor head.

Port exhaust bleed off system.

Oil cooler.

Electronics bay.

Fuel tanks.

Exhaust outlet for cooling air with bleed off pump serving floats.

Booster jet for attaining maximum speed in forward flight.

Emergency rocket booster.

Rocket fuel tank.

Actuator for variable incident tail vanes.

ump regulator controlling air flow to floats.

Port float - these can be inflated to any pressure required according to the landing terrain. Air is contained in an inner tube protected by a Maylon armoured outer skin bonded to the metal shoe on top of the float.

CLOUDBASE - ANGEL AIRCRAFT - SPECTRUM PURSUIT VEHICLE (SPV) -
MAXIMUM SECURITY VEHICLE (MSV) - SPECTRUM PASSENGER JET (SPJ) - SPECTRUM HELICOPTER -
SPECTRUM SALOON CAR (SSC) - YELLOW FOX, GASOLENE TANKER - SPECTRUM DETECTOR VAN -
SPECTRUM HOVERCRAFT - SPECTRUM CLAM SUB - MAGNACOPTER
HOME | THE WORLD OF CAPTAIN SCARLET | CAST OF CHARACTERS | CRAFT AND EQUIPMENT | EPISODE GUIDE |
MERCHANDISING & TRADING | CAPTAIN SCARLET FAN FICTION | MISCELLANEOUS |
THE OTHER WORLDS OF GERRY ANDERSON | LINKS | SID DATABASE |
COMIC STRIPS PETITION | GUESTBOOK |
SKYBASE CENTRAL (CGI SERIES) | SPECTRUM HQ FORUM | UPDATES | NEWS PAGE
You can send your comments to:
scarlet1bishop@hotmail.com