In the early 2060s, the majority of the World is run by the World Government, working from Unity City, Bermuda. Security is enforced by the World Army/Air-Force (W.A.A.F.), World Aquanaut Security Patrol (W.A.S.P.), the World Space Patrol (W.S.P.) and the Universal Secret Service (U.S.S.). But now there is now the need for an ultimate security task force, intent to keep peace on Earth, and relieve some pressure from all those specialised forces. For this reason, Spectrum was formulated, and a committee was formed to put together this new organisation, under the control of the World Government, and the watchful eye of the then current World President, Nikita Bandranaik.
As personnel had to be recruited for this new peace-keeping force, trained agents specialising in one field of activity, it was decided that, rather these agents were to be recruited from the already established World Government services – thus shortening training time, but also to obtain the world's best in their fields. A headquarters, too, had to be found and with it a full complement of machinery and advanced equipment.
As the basis to this new organization was taking shape, ideas for this new headquarters, which construction would be the first task at hand for the World Government, were formulated in complete secrecy. The headquarters had to be fully self-sufficient and fully operational, with the risk of failure cut down to the minimum. Construction and ultimate location had to remain secret, for security reasons. Many ideas came to the drawing board: a massive submarine craft that would travelled into the deep of the ocean; a floating island; a land-based complex in the Sahara Desert or the Amazon jungle, a space-station. All ideas were ruled out for diverse reasons – from being impracticable to security leakage. The last idea – that of the space-station, being rejected too, the committee amended it slightly, and the new headquarters would then become some kind of air-floating carrier, set at the brink of the Earth's atmosphere, some 40,000 feet up, able to then change locations at will, to travel where it would be needed, and to have its interceptors in the air, ready for action, in a matter of minutes. The name of this headquarters for the new security organisation would be Cloudbase.
While Cloudbase's contruction were on the go, entrusted to a hand-picked team of the best technicians in the world, under the direction of Colonel Conrad Turner (Captain Black), recruiting form personnel started. The World Government many services were searched, and a campaign of recruiting started where men and women were sifted out from over 1000 applications. These people were to be trusted implicitly and were adaptable for the kind of life they were to lead. The committee interviewed many applicants. Men and women of outstanding achievements and abilities would be chose to become agents this new organisation's agents. A final complement of agents was chosen, amongst the best there was, and were given colours as their code-names, in order to protect their anonymity and to protect family and friends. Those agents were all capable of doing the job required, as they were cool-headed and quick-thinking, and easily adaptable. In charge of this new organisation, that was named Spectrum, the World Government chose a former admiral of the World Navy, of outstanding reputation, who had been an agent of the Universal Secret Service (U.S.S.), and later in charge of the London bureau of that same service: Charles Gray, who would be code-named Colonel White.
Five girl pilots were recruited to form the strike squadron of combat pilots of the Spectrum organisation, to be stationed on Cloudbase. All were coming from different organisations, all of them with extraordinary backgrounds and different abilities, enabling them also to take up other tasks, when needed be. Those girls became the Angels, and were to receive classical names as code-names.
A medical officer was chosen for Cloudbase, the best there was in the world, Dr Edward Wilkie, now code-named Doctor Fawn. And finally, a genius of computer and communications expert was chosen to become Cloudbase communications officer and Colonel White's personal aide: Seymour Griffiths, who would become Lieutenant Green.
As they already were trained professional, the new agents underwent another short training schedule, before definitely joining Spectrum. A handful of them had been picked to form the core of the Organisation. Those colour-coded staff officers were to be mainly stationed on Cloudbase, and be sent in the earth of the most dangerous mission.
The others applicants, also sent on training, were assigned to fill the less glamorous, yet most essantiel positions on Cloudbase. The hundreds of personnel who had been turned down as staff for the Cloudbase headquarters, were still to be employed by the new Spectrum organisation. Some were to be stationed on the many other Spectrum ground-based facilities scattered around the world, such at ground Headquarters (New York, London, Berlin, etc. ), Securities Buildings (New York), Training Facilities (Koala Base), etc. Others were given new identities and country of origin, they were scattered around the world, entrusted with Spectrum equipment. They were to gain official standing and acceptance into their new community in any position given to them, seemingly leading a normal life, with their community knowing nothing of their undercover action. These world-based, ground agents, were ready for immediate on-call action, giving Spectrum agents the equipment they needed for their work (such as SPVs), and helping them if needed be.
Spectrum was now ready for action, and in the short time it operated as a security force, against terrorists and other world-wide threats, its results were effective and a complete success. But soon came the unknown menace of the Mysterons, with their war on nerves they waged against Earth. A security force had to be chosen to deal solely against them. Because of the new organisation efficiency, its special equipment and its highly specialised agents, Spectrum was chosen to deal with the Mysterons. And so it became it's principal mandate, until the Mysterons' threat would be over, and the War of Nerves came to an end.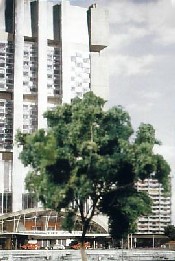 The Spectrum Security Building in New York, before its destruction in "The Mysterons"