| | |
| --- | --- |
| | Spectrum Facilities: KOALA BASE |
CAPTAIN SCARLET and the MYSTERONS UNOFFICIAL WEBSITE

Maintained by Chris Bishop
KOALA BASE
All information taken from Century 21 related media, and from Captain Scarlet TV episode "Traitor" - If you can provide will any new data, please, contact the webmaster. Thank you!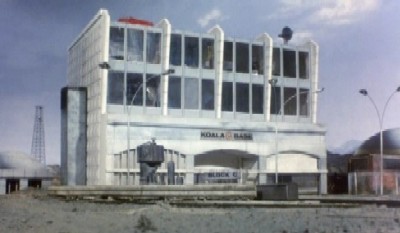 Koala Base Principal Building and Command Centre,
also housing offices, class and lecture rooms, dormitories, guess rooms, etc.
LOCATION: Secret. Somewhere in the Australian outback.
Its exact location unknown, but situated somewhere in the Australian outback, Koala Base is Spectrum Training Facility - where future agents (cadets) are to be fully trained before undertaking their career within Spectrum. It is not known if other training facilities such as Koala Base exist elsewhere in the world, but it could be stipulated that the colour-coded Captains from the higher staff had follow training at Koala as per information taken from an official source stipulating that they went to 'Australia to complete training.'
It's also at Koala Base that are built and tested the Spectrum Hovercrafts, which are used to patrol the base grounds. Considering information from the TV episode 'Traitor' Koala Base perimeters broadened themselves on an extensive distance - which would seem logical considering that the Training facility must dispose of a large ground to well-prepare its agents.
Koala Base principal building at night. Through the window, you can see the classrooms where the cadets receive their different courses.

Evidently not as fully sophisticated as Cloudbase Control Room, the Koala Base Control Room, domain of Major Stone (seated) nevertheless comes with all the needed equipment (telecommunication, electronics, data computing, etc. which makes of it a fully operating Spectrum military base.)

The lecture room of Koala Base, situated in the principal building, where cadets officers received briefing, theoretical instructions, or lectures from superior officers on a visit (Here, Captains Blue and Scarlet).

Koala Base has at its disposal its own military runway, carved into the outback desert soil.

Bloc C, where the Spectrum Hovercrafts are stored. It's also probably that it serves as housing for aircraft, considering the proximity of the runway (in the foreground), which is illuminated by night by the powerful lamp posts seen on the left. On the right, stands the radar house.

Major Stone,

at the moment, Koala Base commanding officer.

The Koala Training Base badge.

A Spectrum Hovercraft, as it prepares to leave base for its scheduled patrol..

A patrolling Hovercraft, in the vast setting of the Australian desert, surrounding Koala Base.
BACK TO "THE WORLD OF CAPTAIN SCARLET PAGE"
HISTORY OF THE 2068 WORLD
CHRONOLOGY OF THE CAPTAIN SCARLET UNIVERSE
HOME | THE WORLD OF CAPTAIN SCARLET | CAST OF CHARACTERS| CRAFT AND EQUIPMENT | EPISODE GUIDE |
MERCHANDISING & TRADING | CAPTAIN SCARLET FAN FICTION | MISCELLANEOUS |
THE OTHER WORLDS OF GERRY ANDERSON | LINKS | SID DATABASE |
COMIC STRIPS PETITION | GUESTBOOK |
SKYBASE CENTRAL (CGI SERIES) | SPECTRUM HQ FORUM | UPDATES | NEWS PAGE
You can send your comments to:
scarlet1bishop@hotmail.com