| | |
| --- | --- |
| | World of Captain Scarlet: THE MYSTERON COMPLEX |
CAPTAIN SCARLET and the MYSTERONS UNOFFICIAL WEBSITE

Maintained by Chris Bishop
THE MYSTERON MARTIAN COMPLEX
(cutaways)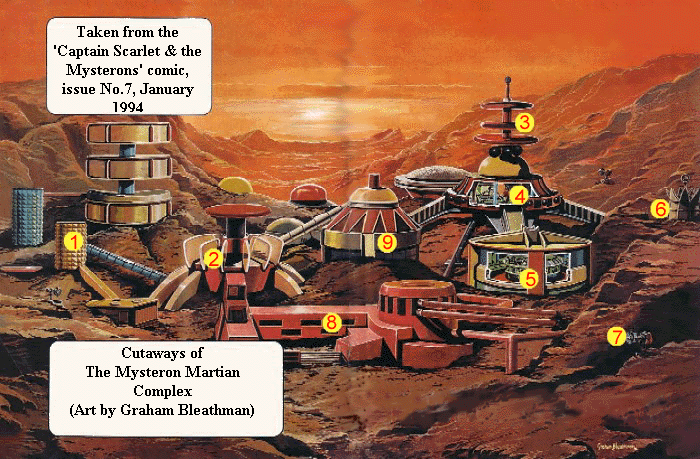 Due to the Mysteron menace, scientists can only speculate to what possible functions the buildings in the Mysteron City might be used for. (Drawing rendition from an artist, taken from the images brought back by the MSV camera of the Zero-X Martian expedition).
Possible power plant.

Solar energy panels, probably a reserve power plant.

Possible communications tower used to transmit the Retrometabolism signals and control instructions to Mysteron agents and/or Mysteronised objects.

Theory: One of the Mysteron computers, possibly a bio-electronic artificial intelligence system specifically dealing with transmitting code signals or communicating with other life forms.

Computer dealing with the city's life support functions.

Retrometabolism station, one of several around the city, normally located below ground. (Seen in action in 'The Mysterons' episode.)

One of several video camera and sensor monitors. Several are placed in buildings, others are located around the city.

Theory: Possible living accommodation for the original Mysterons now disused.

Theory: Possible conference centre for the city's original inhabitants, now disused.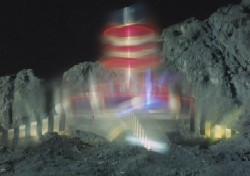 One of the buildings of the Mysteron Martian Complex, as it first appeared to Captain Black and the MEV crew. The entire Complex was surrounded by some kind of luminescent haze.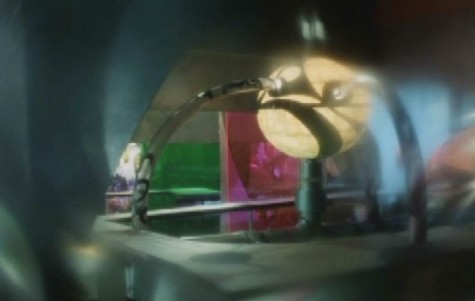 Luminous nterior of one of the construction, from where the Mysterons observed the Earth visitors. Mysterons can't be seen, and theories have it that either they're invisible or that they really are the computers manning the now disused city that another stellar race (possibly the original Mysterons) once inhabited.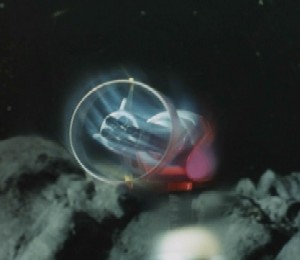 The crew of the Martian Exploration Vehicle mistook that ominously-looking observation device the Mysteron pointed on them as some kind of weapon, before firing a destructive salve that was supposed to annihilate the entire Complex.
(7 on cutaways)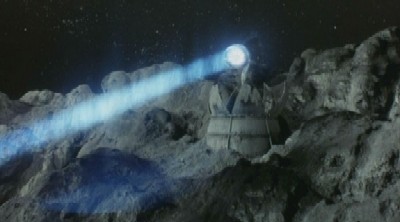 The retrometabolic beam seen in action for the first time. The Mysteron used it to recreate their destroyed Complex.
(6 on cutaways)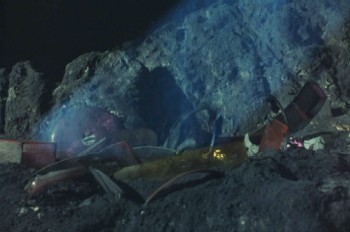 The two phase of the retrometabolic beam: first it bathes the destroyed Complex buildings...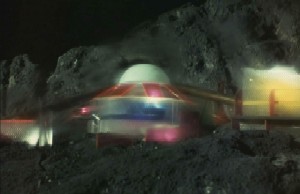 ... Then the building is completely recreated, as if it never had been destroyed in the first place.
(All photos from episode 1, "The Mysterons")
HISTORY OF THE 2068 WORLD
CHRONOLOGY OF THE CAPTAIN SCARLET UNIVERSE
BACK TO "THE WORLD OF CAPTAIN SCARLET PAGE"
HOME | THE WORLD OF CAPTAIN SCARLET | CAST OF CHARACTERS| CRAFT AND EQUIPMENT | EPISODE GUIDE |
MERCHANDISING & TRADING | CAPTAIN SCARLET FAN FICTION | MISCELLANEOUS |
THE OTHER WORLDS OF GERRY ANDERSON | LINKS | SID DATABASE |
COMIC STRIPS PETITION | GUESTBOOK |
SKYBASE CENTRAL (CGI SERIES) | SPECTRUM HQ FORUM | UPDATES | NEWS PAGE
You can send your comments to:
scarlet1bishop@hotmail.com