Spectrum designation:

Colonel White

Rank and attributions:

Commander-in-chief of Spectrum, commander of Cloudbase Spectrum HQ.

Real name :

Charles Gray

Place of birth :

London, England

Date of birth:

14 July 2017

Height:

6 Ft. 1 Ins.

Weight:

172 Lbs

Eyes:

Blue

Hair:

White/grey

Puppet specifications:

Facial characteristic and voice of Colonel White were based on actor Donald Gray, who provided the voice.
Personal history
Born in London, England, and growing up under Britain's Military Regime, Charles Gray studied at King's College, Canterbury, Kent, a private school, until the age of 17, and then moved to a branch of the Norwich Military College of Vermont based at the University of East Anglia in Norfolk. In 2038, at the age of 21, he gained first class honours in degrees for computer control, navigation and technology. When he left university, he put his hard-won qualifications to use by enlisting with the British Navy, and served on submarines and destroyers, in various hot spots of the time – such as South East Asia in 2040, the Iceland dispute in 2042, and the Panama-Isthmus rebellion of 2042-43.
In a remarkably short time, Charles Gray rose through the ranks to become Captain in 2046, at the age of 29. The same year, in December, the British civil war erupted. At the time he was the captain of an un-named British Navy Destroyer in the Atlantic, and Charles Gray presumably went against his superiors' orders and sided with the rebels, heading back to Britain to join them and help overthrow the military dictatorship which then ruled Britain. The rebellion was over in a matter of weeks, and Britain finally joined the World Government in February of 2047.
Charles was offered full command of a World Navy Destroyer by the World Government, and his continuingly successful career eventually culminated in his being made Admiral of the Fleet, at the very young age of 30.
Often in the headlines, Charles Gray became a public hero for his daring escapades. His coolness in tricky situations and extraordinary leadership qualities had gained him the respect of top military staff all around the world. For that reason his friends and military peers were taken by surprise when, at the age of only thirty years old, he announced his retirement from military service.
In fact, this was a carefully prepared cover-story because Gray had been selected to serve in the Universal Secret Service (the USS), as a field agent. It was around this time (2048) that he married.
After two years of active service as a field agent, during which he completed his various missions with success, Charles Gray was promoted, in 2049, to reorganise the British section of the USS. This is where he demonstrated the full extent of his innate talents for leadership.
In 2050, he was officially promoted to head of the British section of the USS, receiving command of the London section of the World Intelligence Network. This division, which was in disarray due to infiltration by enemy agents, was the disgrace of the entire USS. Gray ruthlessly cleansed the London HQ of all enemy agents and infiltrators within a year of his appointment, a seemingly impossible task. Through his ruthlessness in command, determination and tactics, Gray successfully transformed the USS London section into a high standard, efficient and smooth-running office. It was also about that time that Charles became a widower (date unspecified).
Because of his dedication, his ability to obtain results and his astounding leadership qualities, in 2065 Gray was offered the post of Supreme Commander of the USS, but he rejected this in favour of accepting the offer made to him by the Spectrum Selection committee. This was the position of supreme Commander-in-Chief of the new Spectrum security organization, and of its Cloudbase Headquarters, as well as the rank and colour-codename of Colonel White.
Personal history's inconsistencies…
As with many – if not all the characters from the series, there are various inconsistencies regarding Charles Gray/Colonel White's biography.
For example, the 1967 annual says White joined the World Navy – with no mention of the British Navy. It is also where the mention of the Norwich University, a military college in Vermont appears. But, as some of the previously published details of Charles Gray's biography didn't coincide with what was later written in 'Century 21' magazine as an 'historical background' for the Gerry Anderson series –most notably with the now infamous 'Military Regime of Britain which lasted from 2028 to 2047 – Colonel White's biography was rewritten and he became a hero of that period. That later information is now regarded as 'canon'.
It would also seem unlikely that Charles Gray became a captain at 29 and then retired as Admiral of the Fleet at 30. He'd have had to have been promoted 5 times in one year (using British Naval ranks). But as those were 'difficult times' – especially for Britain – it just might be conceivable that the Military Dictatorship which Britain was under, was in dire need of 'heroic figures' to use for championing their probably unpopular regime. Young and feisty officers, such at Gray, would likely have a meteroric career, if their exploits often became headlines. That Gray would later turn against the Military Government seems like an interesting twist of fate.
As for the World Government – perhaps they sought to handsomely reward the man who had helped put down the Military Regime; as such, it might have seemed like a sensible move to offer him the rank of Admiral – especially if they recognised his expertise for the job. In the event, he did not remain long in that post. Granted, this might seem like a far-fetched explanation… but so far, there is nothing better to offer.
Personality profile
His dedication to his work and his sincerity have earned Charles Gray the respect of his military peers around the world – a respect that 'Colonel White' also receives from his fellow officers and the crew of Cloudbase, as well as Spectrum's ground bases and its related global organisations. Known for his often hot temper (as seen in "Avalanche" and "White as Snow"), this respect might tend to waver at times, however it is never completely lost.
He frequently demonstrates that he knows the officers under his command very well and will use their individual characters to achieve success in their missions – such as when he engineers Captain Scarlet's dismissal for gambling in "Special Assignment", knowing full well that Captain Blue will track his partner down to discover why Scarlet acted as he did.
Off duty the Colonel is still engrossed to a great degree in his work, finding little time to completely relax and forget his responsibilities, even for a while. When he does find a few minutes to himself he likes to participate in role-playing 'war-games' along with Captain Scarlet. He is also a ruthless chess player, and other spare moments are taken up by gardening, and reading crime fiction. He's even started to write his own "whodunit".
The infamous 'rose tree' that the Colonel tends on Cloudbase Promenade Deck in his dead wife's memory, and that he forbids anyone to touch, was never part of the official background – but was created by Chris Bishop for her story 'A Question of Trust'. References to that rose tree crept into later stories, and other authors have mentioned it.
Colonel White and Spectrum...
Supreme commander of Spectrum, and of its hovering headquarters, Cloudbase, it would seem, according to various sources, including Century 21 magazines and annuals, that Colonel White, along with Captain Black, was deeply involved with the creation of the security organisation - which is stated to be the brainchild of Nikita Bandranaik, the first World President. According to those sources, the idea of Cloudbase would come from the former admiral - actually originating from earlier plans of a submarine, then a floating island, or even a carrier. It is also said that White was also responsible for the rear-facing seats which the Spectrum Pursuit Vehicles are equipped with.
While it can be suggested that White had a say in the selection of the agents that would work the most closely with him, it is a documented fact that he did, with Lieutenant Green, closely supervise the training of the five girl pilots who would form the Angel Squadron (as reported in the comic strip 'The Angels'). Colonel White certainly demonstrated a flair for the melodramatic when he chose not to present himself directly to the Angels, but instead left Lieutenant Green to make the first contact with them - through a voice speaker, the pilots never actually seeing their 'mysterious boss'. There is no doubt that, if that voice was Lieutenant Green's, it was Colonel White's instructions that were conveyed to the Angels.
As Spectrum high commander, Colonel White seldom participates in the action, most of the time staying on Cloudbase to supervise the operations from the Control Room. However, he can, and will, put himself on the line when necessary, as demonstrated in "White as Snow" and "Spectrum Strikes Back", and various other events reported in strips published in Century 21 magazines.
Considering his background as a Universal Secret Service ground agent, we must believe that Colonel White is not adverse to take action himself, if there is a need for it, and that he is quite capable of handling any dangerous situation in which he could find himself.
About his family
Official sources don't list any family for Colonel White, except for his deceased wife. Presumably, he has no children, as might be indicated from the comments in the John Theydon book "Captain Scarlet and the Mysterons" where it is stated that the colonel "regarded the Angels as the daughters his wife didn't give him before her death". This statement might or might not be accepted as official, but it can be taken as a general indication of Colonel White's background.
It's only within fan fiction, an unofficial source, that more detailed information has been invented about the Colonel's background. In the story "Spectrum is White", Chris Bishop called his deceased wife Elizabeth Somners, formerly his partner within the USS, who died while expecting their first child, during a plane crash – which Gray survived. In the same story, the name Alexander Gray was given to Charles' father – with the information that he was a drill sergeant of the British army, and a helicopter pilot who died when his craft crashed before his son's eyes.
Also worth noting is the name 'Annabel', used for White's wife – in a story written by Marion Woods, and an 82 year old Professor of Mathematics, as his father, created by Polly Amber for a few of her short, amusing stories.
Chris Bishop also suggested a relationship between Charles Gray and Amanda Wainwright, an original character she created as the widowed mother of Symphony Angel (Karen Wainwright). While created for fanfic and definitively not official, the relationship seems to have been accepted by many other writers for their own stories (such as Marion Woods, Sage Harper and Lezli Farrington), even to the extent of marrying the two of them in stories based in the future.
The Colonel White character from the 'New Captain Scarlet' CGI series has been given a more detailed and official family background – with a wife, named Diana, and a daughter, Victoria. An interesting point worth noting, the character is actually 'Sir' Charles Gray, a title the character doesn't have in the original series, but which was pre-empted by Chris Bishop's story "Spectrum is White", in which it was given to the original White.
The CGI character, with his different background, while very similar to the original one, should be considered as a distinct character.
The many faces of… Charles Gray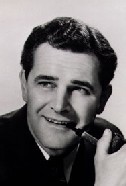 Donald Gray
The features of Colonel White were inspired by Donald Gray, the actor who gave him his voice – as well provided the voice of Captain Black and of the Mysterons, for which he used a deep, ominous tone.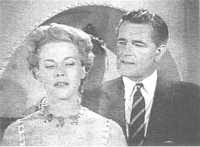 Mark Saber
Donald Gray was born Eldred Donald Owermann Tidbury March 3, 1914, at Fort Beufort. In 1933, he was the South African winner – then the all world winner – of Paramount Pictures Search For Beauty. He was contracted as a bit player until 1935 in Hollywood, with countless minor roles as Elred Tidbury. He then changed name to Donald Gray in 1936, after moving to England.
Gray appeared in Rep and some minor roles in the cinema particularly in "Strange Experiment" (1937) when he replaced James Mason who had stormed off set. In 1938, he received a lead role as one of the four officers in an Alexander Korda film "The Four Feathers". He replaced Stewart Granger in Rep in "Aberdeen" in 1939. Rejected from the services due to duodenal ulcer, he re-enlisted as a Private in the Gordon Highlanders and became an Officer in King's Own Scottish Borderers in 1941. He lost his left arm in combat July 18, 1944. After the War, he started his own Theatre Company in South Africa, then went to the BBC, first in the 'Radio Reparatory Company' and then as a Newsreader and announcer on BBC TV. He played in the film "Island of Desire" (1952) as a lead with Linda Darnel and Tab Hunter, and became more widely known in ITV's "Mark Saber" (1955-1960).
After that, Gray became badly typecast, only landing roles in narration and TV commercials - it was during this period that he was hired to do voiceovers in "Captain Scarlet & the Mysterons".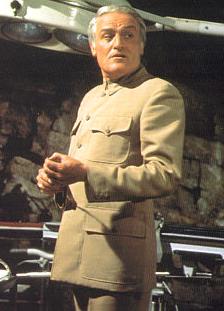 Actor Charles Gray as Blofeld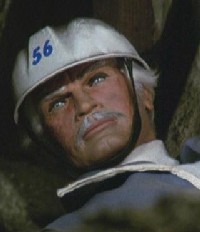 Willy Loover
Gray's last film was "Murder on the Campus" (1962), directed by Michael Winner. He landed some minor TV roles in 1970s: Paul Merton in "Dixon of Dock Green", Father Conrad in "Donati Conspiracy", Doctor Garnett in "Doctor in Charge" and Paul Hogburn in "Emmerdale Farm". Married to Sheila Green (1955), he had two daughters Loretta (born 1956) and Deborah (born 1959). Settled in Farnham in Surrey, he died on holiday, at the age of 64 on April 7, 1978 of a coronary in East London, South Africa.
A biography, "Colonel White Meets Mark Saber", has been written by author Trevor Jordan on the life of Donald Gray.
It is interesting to note that another actor named "Charles Gray" was a contemporary of Donald Gray, an English-born actor whose real name was actually Donald Marshall Gray! A character actor, Charles Gray specialised himself at playing bad guys and despicable characters in many movies – he became most notoriously known as the villainous Ernst Stavro Blofeld, James Bond's arch enemy in "Diamonds are Forever" – and director of the evil organization THE SPECTRE (a name so curiously similar to SPECTRUM!).
'To catch a spy'

(Secret Service)

'See you down there'

(Joe 90)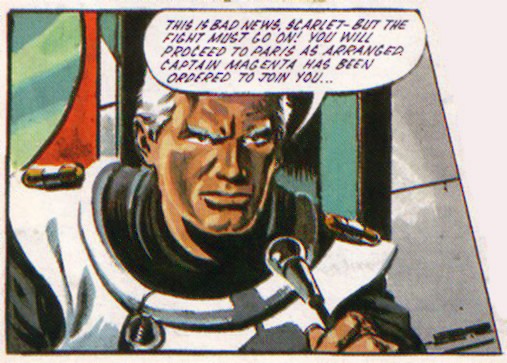 Art by Mike Noble for 'Blue Mysteronised'
The Colonel White puppet appeared in 31 of the 32 episodes of the Captain Scarlet series (the only exception being "The Inquisition").
The puppet was later used in an episode of the "Joe 90" series to personify Willy Loover, the father of Sam Loover, and for a couple of shady characters (with darker hair) in "Secret Service".
As with the other characters of the 'Captain Scarlet and the Mysterons' series, Colonel White was drawn by many artists, notably for the comic strips that run in the pages of the various magazine produced by Century 21, not only for the Captain Scarlet strip, but also the Angels strip, in the Lady Penelope magazine, where artist Jon Davis drew Colonel White's as he first appear to the girl pilots.

Art by Jon Davis for 'The Angels' strip.
Ron Embleton was first to draw Colonel White for the Captain Scarlet comic strip, and also included the character in the wonderful poster he created for the Anglo Confectionary bubble gums cards, which also features Captain Scarlet himself, Captain Blue, Lieutenant Green and Symphony Angel.
Mike Noble, probably the artist mostly renowned for the Captain Scarlet strip offered a rendition of Colonel White that made him almost as much an action man as the officers under his command (as shown in the illustrations above).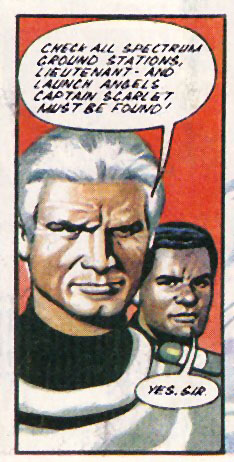 Ron Embleton
Lynn Simpson's two portraits
Other artists followed in Mike Noble's footsteps for the comic strip (such at Keith Watson, Don Harley, Frank Bellamy, John Cooper, Mike White, etc.), and all of them, consequently, had to draw the Spectrum commander.
In the 80s, artist Lynn Simpson drew a series of Spectrum portraits, featuring Captain Scarlet, Captain Blue, Captain Ochre, Captain Black and Colonel White. Years later, she drew another portrait of the Spectrum commander, this one in colour, for one of the short-lived 'Captain Scarlet & the Mysterons' magazine, which were published between 1993 and 1994.
| | | | | |
| --- | --- | --- | --- | --- |
| Keith Watson | Don Harley | Bellamy/Harley | John Cooper | Mike White |
CGI Colonel White
The character of Colonel White, created for the CGI series 'New Captain Scarlet' is very much similar to the the character from the original series in characteristic and personality. The features of the CGI White were indeed based on those of the original puppet. The background for each character, however, differs greatly, and it would seem that for the CGI series, more thought was given to that aspect of the character, with White now having a family - of which he admits is his reason to continue the good fight. This White seems closer to his officers, especially the female Lieutenant Green, working so closely with him for years, and would freely call them by their first names - something that was never heard from the Colonel White of the Supermarionation show. However, another trait shared between the two characters: neither of them would hesitate to make the hard choice of sacrificing one of their staff or give the order of attack, if it means saving the greater number - as seen in "Manhunt" and "White as Snow" (Supermarionation) and "Instrument of Destruction, Part 2" (CGI).