| | |
| --- | --- |
| | MERCHANDISING - Captain Scarlet Models |
CAPTAIN SCARLET and the MYSTERONS UNOFFICIAL WEBSITE

by Chris Bishop
SEVANS MODELS - 1993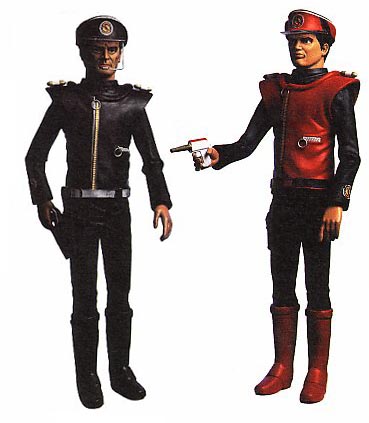 picture taken in the "Captain Scarlet & the Mysterons" reference book (1993).
These beautifully crafted, very detailed vinyl kits, issued in 1993, by Stuart Evans, are rare to find - especially if they are not assembled. To my knowledge, there is only five figure models available: Captain Scarlet himself, Captain Blue, Captain Black, Lieutenant Green and Colonel White. There were only 95 kits of Colonel White issued, a limited and numbered edition for collector, which probably makes this one one of the most sought about models ever made for the series.
If there are people out there able to provide information on those models (such as approx. price, scales, cat. numbers, edition, better pictures, etc.) please contact the webmaster of this site. Thank you.)
| | |
| --- | --- |
| Indestructible CAPTAIN SCARLET | |
| | |
| --- | --- |
| Spectrum Agent CAPTAIN BLUE | |
| | |
| --- | --- |
| Mysteron Agent CAPTAIN BLACK | |
| | |
| --- | --- |
| Spectrum Agent LIEUTENANT GREEN | |
Spectrum Commander COLONEL WHITE

The Sevans Colonel White model is the rarest on the planet. Many dealers and collectors donít know about it, or said it had only been planned and never made; some still believe that those in circulation are not genuine. Itís not listed in memorabilia guides. But Sevans did make a very, very small number of Colonel White models.

Only 95 Colonel White models were made. That number is right --- 95, not 90. They were made in 1997. Sales of the Captain Scarlet models had fallen off and Sevans decided that a new model would not be worth manufacturing and marketing. Ninety that were already made were packed in a pictureless numbered-edition boxes. But four more were packed in the same kind of large boxes that the other models in the series were and had full-colour pictures pasted on the front. And one model, the prototype, was built by Stuart Evans and used for the box cover photo.


As far as it is known, the 90 plain-boxed Colonel White models were never made available to the general public and were not listed in any official catalogue, which helps to explain why so many people doubt the model's authenticity. Most of the plain-boxed models were given away or sold privately. Thereís no idea how many were built up and how many are still in the boxes.


They don't often come up for sale, but when they do they sell for up to $500 US.

The four colour-picture boxes were not sold. Three were given away. One was kept by Stuart Evans, owner of Sevans Models. Evans built the model that is pictured on the box. He also scratch-built Colonel White's desk for the photo. The desk is not included in the model kit and there is no separate kit for it. (Information and pictures given by Tiger Jackson. Thank you very much! C.B.)

One of the 90 pictureless numbered edition boxes.

Only 4 of those boxes, with a picture of the model pasted on it, exist in the world.

The highly detailed prototype by Stuart Evans, who also built the

control test.
new page - March 3rd, 2011
DVDS AND OTHER MERCHANDISES FROM GERRY ANDERSON'S SERIES:
new pages - September 12, 2010
SPECTRUM HQ HOME | SKYBASE CENTRAL (CGI SERIES) | UPDATES | CAPTAIN SCARLET FAN FICTION | SPECTRUM HQ FORUM | GALLERY | NEWS PAGE |
THE WORLD OF CAPTAIN SCARLET | CAST OF CHARACTERS| CRAFT AND EQUIPMENT | EPISODE GUIDE |
MERCHANDISING & TRADING | MISCELLANEOUS |
THE OTHER WORLDS OF GERRY ANDERSON | LINKS | SID DATABASE | SITE MAP | COMIC STRIPS PETITION | GUESTBOOK |
You can send your comments to:
scarlet1bishop@hotmail.com