TRADING CARDS
CARD INC., 2002.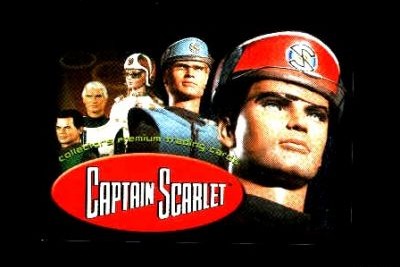 2002 - Cards Inc. had released a beautiful series of Captain Scarlet cards for fans everywhere to buy. That series of beautiful pics from the series, giving episodes descriptions, vehicles and crafts descriptions, biographies of the characters, overview of the first episode, "The Mysterons".
The set contains:
A deck of 72 regular cards.

6 embossed 'chase cards', each featuring one characters: Captain Scarlet, Colonel White, Captain Blue, Destiny Angel, Captain Black and Lieutenant Green.

3 boxtopper, featuring each a scene from the end credit panels, drawn by Ron Embleton.

2 autographed cards; one of Captain Scarlet, with autograph by Francis Matthews, and one of Captain Ochre, autographed by Jeremy Wilkin.

9 cards preview set - when assembled, gives a beautiful Captain Scarlet montage on the back.

6 cards preview set - when assembled, gives a beautiful image of the Spectrum logo on the back.

1 promo card.

23 sketchings cards, by artist Graham Bleatman.

1 beautifully illustrated 1 1/2 inches binder, in which you can collect all your cards.
These cards and the binder can be bought directly from Card Inc. You can also try to obtain them on e-Bay auctions.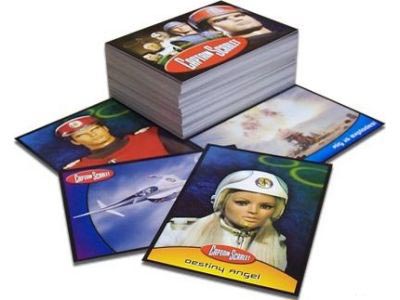 Deck of 72 cards.