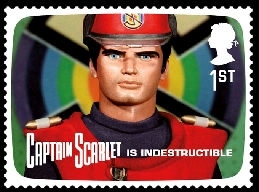 The puppet characters in Stingray, Joe 90, Captain Scarlett and Thunderbirds have enthralled millions since they first arrived on our TV screens in the 1960s, and they are now set to visit our homes again as Royal Mail pays tribute to their creator in a new set of special stamps.
Issued on 11 January, FAB: The Genius of Gerry Anderson marks the 50th anniversary of these ground-breaking programmes, which began with Supercar in 1961. The set of stamps also includes Royal Mail's first 'motion stamps' on a miniature sheet which using microlenticular printing reveals the Thunderbirds take off when tilted back and forth.
Gerry Anderson said: "I feel incredibly proud that my work has been chosen to appear on a set of commemorative stamps and to see actual animation of the opening scenes of Thunderbirds on motion stamps, for me, is wonderful."
The stamps, split between 1st Class and 97p values, feature six of his most popular shows: Supercar, Fireball XL5, Stingray, Thunderbirds, Captain Scarlet and Joe 90, highlighting the ingenious characters and incredible vehicles created by Anderson.
For many of course, it's his most celebrated creation, Thunderbirds, that we remember, especially its dramatic 5! 4! 3! 2! 1! opening sequence. Now people can relive that moment through a four-stamp miniature sheet. The countdown begins with Thunderbird 5 - the Earth-orbiting space station keeping a watchful eye from within the miniature sheet's border, whilst a moving image of lift off is revealed for Thunderbirds 1, 2, 3 and 4.
Philip Parker, Royal Mail Stamps spokesperson, said: "Gerry Anderson's sophisticated puppetry, combined with his taste for state-of-the-art special effects and futuristic super-vehicles, caused a sensation in the 1960s and his legacy lives on today.
"I'm delighted that Royal Mail is celebrating his ingenuity and inventiveness with our first stamp issue of 2011, and our first motion stamps. I'm sure that collectors and TV fans alike will enjoy the chance to see the opening credits of Thunderbirds again – but this time through the technology of stamps!"
Royal Mail is also producing a Retail Stamp Book and Medal Cover to accompany the issue. (for more details see Notes to Editors in the complete news release).
The Gerry Anderson archive is represented by ITV Studios Global Entertainment who worked with Royal Mail to produce FAB: The Genius of Gerry Anderson.
You can order the various products at the Royal Mail website.
Item added December 17, 2010