SUPERCAR
UPDATES: February 14, 2015:
DVD: New Region 1 DVD set from Shout! Factory (pre-sale)
DVD: Australian set added to the list - New links added to various items.
MODELS: Johnny Lightning diecast added to the list.
COMICS: New links added.
Check the stars

for newest items.
PLEASE! CAREFULLY READ THIS IMPORTANT NOTE FOR TAPES AND DVD:
Be aware of the different Regions and recording Formats. UK tapes and DVD are PAL format - and DVD discs are Region 2, which means that PAL TAPES ARE ONLY COMPATIBLE WITH UK VIDEO SYSTEMS AND REGION 2 DVD DISCS ARE ONLY COMPATIBLE WITH EUROPEAN PLAYERS -- THEY WILL NOT WORK IN US EQUIPMENT. Unless you have a system that will enable you to, you will not be able to view these medias in North American machines, which use NTSC recording format, and Region 1 for DVD discs. The same is true the other way around. Please note that some DVD players can play any format. Check the compatibility of your equipment before ordering.
U.K. - EUROPE (REGION 2,PAL FORMAT)
SUPERCAR ON DVD, REGION 2 (PAL FORMAT - UK)
SUPERCAR, THE ENTIRE SERIES (2009 REPACKAGED FORMAT)

Format: PAL, Region 2


975 minutes

7 discs - 39 Episodes - Black and white
UK Classification: U


Studio: Network
DVD Release Date: 15 Sep 2009

Listed July 12, 2010
GERRY ANDERSON: THE MONOCHROME YEARS (17 DISCS BOX SET) - U.K. REGION 2, PAL FORMAT

This is the ultimate collection of all of Anderson TV Series filmed in black and white. The 17 discs set, spanning from 1959 to 1962, contains the following shows:

Format: Box set, original full screen presentation, Black & White, PAL, Region 2
Language English
Number of discs: 17
Classification: U
Studio: Network
DVD Release Date: 9 Oct 2006
Run Time: 2600 minutes

available online through AMAZON.CO.UK

Item added to this page, September 12, 2010
NORTH AMERICA (U.S. - CANADA) (REGION 1, NTSC FORMAT)
SUPERCAR - THE COMPLETE SERIES (5 DISCS DVD BOX SET) - PRE-SALE!

Shout! Factory continues its distribution of their Gerry Anderson Collection with this brand-new release of the Marvel of the Age: SUPERCAR!

From Shout! Factory:

On land, sea, or in the air, you've never seen anything like Supercar! Piloted by the intrepid Mike Mercury, the ultimate all-terrain vehicle races from its base of operations in the Nevada desert in search of action and adventure. With the assistance of eccentric geniuses Professor Rudolph Popkiss and Dr. Horatio Beaker and his young sidekick Jimmy, Mercury travels the world to protect the innocent and bring the guilty-including his greatest foe, the fiendish Masterspy- to justice. In this complete series collection from Timeless Media Group, you can ride along for every thrilling exploit—all from the safety of your living room!

An early SUPERMARIONATION production from legendary producer Gerry Anderson, Supercar's thirty-nine episodes set the stage for Anderson's later triumphs, including Fireball XL-5, Captain Scarlet and the Mysterons, and Thunderbirds. Groundbreaking in its day, Supercar-like all of Anderson's creations- continues to fascinate to this day, sparking the imaginations of generations of children. Climb into the Mercury-manned machine of the future- Supercar! And kids, don't forget to fasten your seatbelts.

Bonus Features

Commentary by Sylvia Anderson on "Rescue"
Gerry Anderson Interview: Supercar
Derek Meddings: The Man and His Miniatures

39 episodes

Format: original full screen presentation, Black & White, NTSC, Region 1
Language English
Number of discs: 5
Studio: Shout! Factory / Timeless Media
DVD Release Date: May 12, 2015
Run Time: 1000 minutes


You can buy this item directly at Shout! Factory.

Item added to this page, February 14, 2015
REGION 1 DVD SET
Follow the adventures of Mike Mercury and his gang, in this DVD boxset. Dating from 1060, Supercar is the first science-fiction series in Supermarionation created by Gerry Anderson, and had set the pace for the following series by the same producer. It's presented here, in glorious black and white, by A&E Entertainment - who brought to North America the DVD sets of "Thunderbirds", "Stingray", "Space: 1999", "U.F.O" - which is yet to be complete - and of course "Captain Scarlet & the Mysterons".
If you want to order your copy of this Supercar boxset now, directly from A&E, click on the link bellow:

FULL BOOST VERTICAL - THE SUPERCAR DOCUMENTARY STORY Added August 15, 2005
A documentary of over 90 minutes documentary on Supercar featuring interviews with Graydon Gould (the voice of Mike Mercury), David Graham (Voice of Doctor Beaker and Mitch), David Elliott, Des Saunders, Bill Harris and Alan Pattillo and numerous others.
Also features a selection of rare archive photographs and clips including newly discovered behind the scenes footage from the making of the series!
This DVD had been included into the Region 2 DVD set, but is absent from the Region 1, North American set (it didn't exist then. North American fans can obtain it now, in Region 0, NTSC format, by buying it online at Fab Gear USA, which has the exclusive on this collector's item!
FULL BOOST VERTICAL!: The Supercar Story

NTSC Format, Region 0

Extras include:
- Supercar in Color;
- 3D CGI A.P. Films Studios walkthrough with optional narration by director Alan Pattillo.
- Flight of Fancy - 45 minute 1960s audio adventure reproduced from the original Mini LP.
- A 12 pages booklet.
- Fireball XL5 in color! Special bonus footage.
- Gallery photos, etc.

Available at

Merchandise links updated, February 14, 2015

Also available at Amazon.com
AUSTRALIA

SUPERCAR THE COMPLETE SERIES (6 DVD BOXSET)
Format: Import, PAL
Language: English (Dolby Digital 2.0)
Region: All Regions
Number of discs: 5
Rated: Unrated
Run Time: 975.00 minutes

Item added to this page, February 14, 2015

THE GERRY ANDERSON COLLECTION (SUPERCAR/FIREBALL XL5, SECRET SERVICE) 14 DISCS BOX SET (AUSTRALIA)
Finally listed on this website, the DVD boxset from Australia! Sold online by EZYDVD.CO.AU
Special Features:
Full Boost Vertical: The Supercar Story, CGI A.P Films Studio tour, Textless Titles,
Clips and Titles in French and Spanish, Colourised Suprcar and Fireball XL5 footage
Stills Gallery, TV Spots

Released: Sunday, 02 December 2007
Audio: Dolby Digital 2.0 Stereo
Aspect Ratio: 1.33:1 Fullscreen, Transfer Format: 4:3
Region: 1,2,3,4,5,6
Distributor: Shock
Rating: PG
Languages: English, Subtitles: English - HI
Running Time: 2275 mins

Link updated: February 14, 2015
SUPERCAR DIE-CAST MODELS
Recapture the excitement of the original cult TV Classic with this stunning collector model. Each model is unique, so colours may vary.
Highly detailed replica, with retractable wings
Diecast construction
Manufacturer: Product Enterprise
Sold online from Amazon.co.uk - Check their pages for various prices and sellers.
Listed July 12, 2010
Colour version

(red and white)

Limited edition

black and white version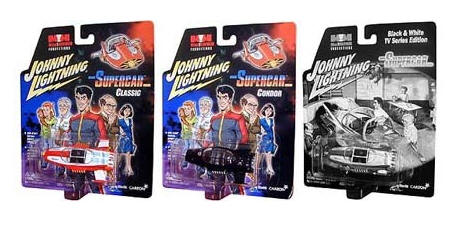 JOHNNY LIGHTNING'S SUPERCAR DIECAST SET
Misc! Mayhem Productions has comissioned Playing Mantis to create a
special Limited Edition set of 3 die cast Johnny Lightning brand Supercars!
Each set contains the Classic full color Supercar with correct wing color and markings,
the ULTRA cool black and white TV Edition and the stealthy "Condor" version,
which will appear in Misc! Mayhem''s Supercar comic book.

Limited to 3500 of each piece.
Item added to this page, February 14, 2015
JOHNNY LIGHTNING SUPERCAR

The colour edition of the item listed above.

Item added to this page, February 14, 2015
SUPERCAR THE COMIC, ISSUE 0

Rare to find comic, From Misc!MAYHEM, produced in 2003.

With beautiful caricatural arts in colors, SUPERCAR graces the pages of this unique comic book, which was supposed to be de first of a brand-new series (Alas, that didn't happen!)

Any fans of Gerry Anderson's first sci-fi series will want to own it.

Available at the Star Trader online store or from FabGear U.S.A

Links updated: February 14, 2015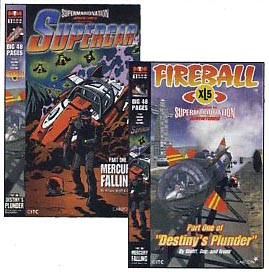 UPDATE: DECEMBER 3, 2014:
Those of you interested in the "U.F.O.", "Fireball XL-5" and "Supercar" comics by Misc!MAYHEM may be wondering what happened with those titles, which had not appeared as they were announced. Only Number 0 of "Supercar" has been published. You can currently buy it at Star Trader.
Unfortunately, all the other series have been cancelled.
However, the Fireball comic story is available in PDF format. You can find it on the Fireball XL-5 Fan fiction page, under the title "The Fastest Guy Alive".
<![if !vml]>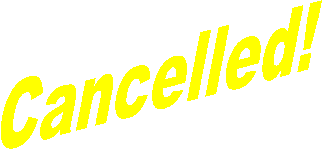 <![endif]>
T-SHIRTS
Also from Misc!MAYHEM is the Supercar T-Shirt, available in five different sizes. Show your allegiance!

You can order the T-shirt online at Star Trader and, for U.S. at SHOPPE MAYHEM!
OTHER MERCHANDISES
Other Terrahawks merchandises could be found by browsing the pages of the Star Trader online catalogue...

... or by visiting one of E-Bay Auctions websites. You'll probably find the items you're looking for at one of those numerous sites!