UPDATES MARCH 15, 2009

FILMED IN SUPERMARIONATION: A HISTORY OF THE FUTURE BY STEPHEN LA RIVIÈRE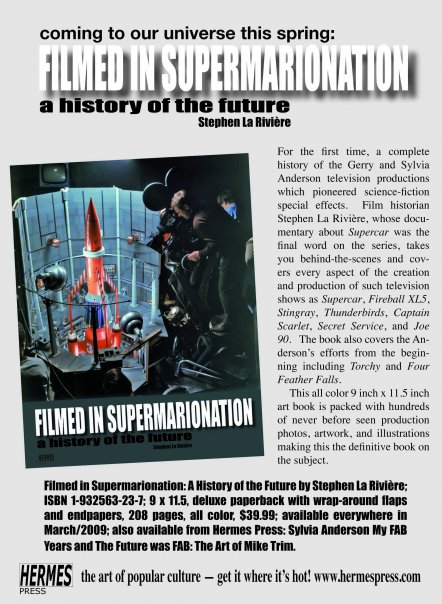 From the author:

"Four year in the making and it's finally here... The most comprehensive history of the Supermarionation shows ever written:
FILMED IN SUPERMARIONATION: A HISTORY OF THE FUTURE
"They are all most keen and enthusiastic to make these the best puppet films ever made. I too feel that this is a wonderful opportunity, and may well be the beginning of something big!" -- 'The Adventures of Twizzle' Puppeteer, Joy Laurey. August 16th 1957
It's a well worn story that has been told in countless books, magazines and documentaries: the story of a group of film makers who decided to set up a production company in an old mansion in Maidenhead and waited for the phone to ring. After six months of silence, they were on the verge of liquidation when a children's novelist asked them if they would like to make some puppet films.
It's a touching story.
It's also completely untrue.
Filmed in Supermarionation is the story as you've never heard it before of the puppet empire that rose from the Slough Trading Estate in the 1960s and created shows such as Thunderbirds, Stingray, Captain Scarlet and Joe 90. Starting right at the beginning with Gerry Anderson's directorial debut in 1955 and finishing on the day the puppet studios closed in 1969, the book charts the rise and fall of the A.P. Films / Century 21 Organisation's 'Supermarionation' films. The book features a wealth of new information, hundreds of previously unseen photographs and is based on hours of interviews with cast and crew, newspaper articles and previously unpublished paperwork.
So if you want to know:
How a two line advertisement changed television history

What role the Conservative Government played in killing off Mike Mercury's career

How three adverts helped lead to a multi-million pound empire

What significance a Ford Anglia car held in the history of 1960s television

What happened to their 21st Century Rolls?

And why Slough Council tried to sue Century 21?
Then this is the book for you. If none of that interests you, then just pick it up for the scandal. Well, it's not really scandal. Just a bit contentious... And if you don't like scandal, then buy it for the happy stuff, of which there is lots."

CENTURY 21: CLASSIC COMIC STRIPS FROM THE WORLD OF GERRY ANDERSON - VOLUMES 1 AND 2
In March 2009, Reynolds & Hearn publish two volumes of reprints from the classic British comics 'TV/Century 21' and 'Lady Penelope'. Not only will you find Captain Scarlet strips in these books, but also, Thunderbirds, Fireball XL5, Lady Penelope, and Zero-X.
Fans have been waiting for this for years, literally, and we are hoping very much that these will only be the start of a series of volumes that will reprint the majority of the TV/Century 21 strips!
Both books will be available in Paperback and Limited Hardcover edition on March 31, 2009. You can pre-order both of them at Amazon.co.uk
Volume 1: Adventures in the 21st Century (Paperback) or Limited Hardcover Edition

Ed. Chris Bentley, with a foreword by Gerry Anderson

160 pages

Reynold & Hearn

Containing the following strips:

Fireball XL5 - The Astran Assassination (artwork by Mike Noble)
Stingray - The Haunting of Station 17 (Ron Embleton)
Stingray - Superjunk (Gerry Embleton)
Thunderbirds - Chain Reaction (Frank Bellamy)
Thunderbirds - The Devil's Crag (Frank Bellamy)
Thunderbirds - Starburst (Brian Lewis)
Lady Penelope - The Luvenium Affair (Frank Langford)
Zero X - Planet of Bones (Mike Noble)
Captain Scarlet - The Football King (Mike Noble)
Captain Scarlet - Leviathan (Don Harley)
Volume 2: Invasion the 21st Century (Paperback)

Ed. Chris Bentley, with a foreword by Gerry Anderson

160 pages

Reynold & Hearn

Containing the following strips:

Fireball - Giant Ant Invasion (Mike Noble)
Fireball XL5 - Planet of Fire (Mike Noble)
Stingray - Monster Weed Menace (Ron Embleton)
Thunderbirds - Curse of the Elastos (Ron Turner)
Thunderbirds - Secret of the Iceberg (Frank Bellamy)
Lady Penelope - The Androids of London Affair (Frank Langford)
Zero X - Prisoners of the Eye Leaves (Mike Noble)
Captain Scarlet - Formicide (Don Harley)
Captain Scarlet - The Beginning of the End (Jim Watson & Mike Noble)
SPECIAL EFFECTS SUPERMAN: THE MINIATURE EFFECTS OF DEREK MEDDINGS
After his career in the film industry took flight with Gerry Anderson in 1957, Derek Meddings proceeded to head the effects team and design every major vehicle for the hit British television series Thunderbirds, Captain Scarlet and UFO. When the Anderson studio closed in 1970, Meddings moved into movies and headed the effects on over 20 motion pictures. His accolades include: six James Bonds, Batman, Supergirl, Santa Claus and The Neverending Story. Foreword by Sir Roger Moore.
THUNDERBIRDS BLU-RAY (UK RELEASE)
The more classic of all Andersons' series is back!
UK fans can now acquired this series, the first amongst all the Andersons shows (and hopefully not the last...) to receive the Blu-Ray treatment! There has been some complains about the cropping of the picture so it would become 16:9. But this is still Blu-Ray quality. So this is a personal choice for each fan to consider if they want this in their collection or not...
Unfortunately, there is no plan so far for a North American release. And up until now, there is no known international Blu-Ray player. Crossing our fingers...
Available from Amazon.co.uk
Thunderbirds [Blu-ray]

Format: PAL
Number of discs: 6
Studio: ITV DVD
Run Time: 1920 minutes

DVD Release Date: 15 Sep 2008
JOURNEY TO THE FAR SIDE OF THE SUN DVD
From Amazon.co.uk:
"Sci-fi adventure and suspense has never been more exciting or intense as when you Journey to the Far Side of the Sun! One hundred years in the future, two astronauts are sent to uncover the secrets of a "duplicate" Earth on the other side of the Sun. When they crash land three weeks earlier than they had planned, they must embark on a life-or-death mission to determine whether they have arrived back home or on the strange mirror world. This imaginative space adventure offers a journey few will ever forget!"
Producers: Gerry and Sylvia Anderson
Directors: Robert Parrish
Actors: Roy Thinnes, Ian Hendry, Patrick Wymark, Herbert Lom
Journey to the Far Side of the Sun (North American release)


Format: Color, Dolby, Dubbed, DVD-Video, Subtitled, Widescreen, NTSC
Language: French (Dolby Digital 2.0 Mono), English (Dolby Digital 2.0 Mono)
Subtitles: English
Region: Region 1
Aspect Ratio: 1.85:1
Number of discs: 1
Studio: Universal Studios

Run Time: 102 minutes
DVD Release Date: June 24, 2008

DICK SPANNER P.I. - 2 DVD SET (PAL, REGION 2, UK)
From Amazon.co.uk:
"A tongue-in-cheek stop-animation series starring mild-mannered private investigator Dick Spanner, the creation of Terry Adlam and Gerry Anderson. Originally screened on television as part of the series Network Seven, this DVD features Dick Spanner in two investigations, complete with lots of sight gags, wisecracks and satire throughout. Dick Spanner is voiced by Shane Rimmer, who was previously the voice of Scott Tracy in Thunderbirds. As a bonus there are interviews with Gerry Anderson at the end of each serial and a new video to go with the theme song."

Directors: Gerry Anderson
Format: Box set, PAL
Region: Region 2 ( DVD formats.)
Number of discs: 2
Studio: Pickwick
Run Time: 196 minutes


DVD Release Date: 15 Oct 2007