Moderator: Spectrum Strike Force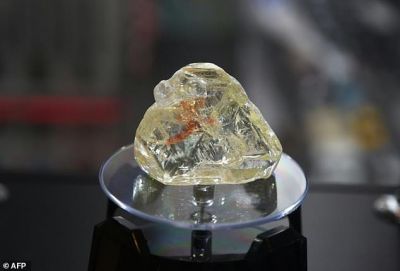 A huge so-called 'peace diamond' sold by the government of Sierra Leone to discourage crime-tainted 'blood diamonds' was sold for £4.9 million ($6.5 million) on Monday.
The 709-carat stone, which was unearthed in March, is the largest discovered in Sierra Leone in almost a half-century.
The diamond is said to be the 14th-largest ever discovered, according to the Rapaport Group, which auctioned the stone in New York on behalf of Sierra Leone's government.
Read more:
http://www.dailymail.co.uk/news/article ... z50WJ8yCJM
Proof the Mysterons are watching us even now?

Vision is perhaps our greatest strength... it makes us peer into the future and lends shape to the unknown.
(Li Ka-Shing)
Cloudbase Captain

Posts: 2891
Joined: Mon Jun 21, 2004 10:21 pm
---
I wonder if the buyer isn't somewhat related to what will become the "World Space Patrol".
"Sir, we were right. This huge chunk of diamant originates from Mars... We ought to go there see if there isn't more of 'em."
Isn't there a Mars mission currently being prepared?

Colonel

Posts: 1752
Joined: Thu Jan 01, 1970 1:00 am
Location: Canada
---
---
Users browsing this forum: No registered users and 1 guest