Moderator: Spectrum Strike Force
I hope I am posting this in the right place, I couldn't see a section for fanart, only fanfiction. Plus I haven't been on here in a verrry long time

There doesn't seem to be a lot of CS fanart about

I've been learning how to paint digitally and I finally got to create a picture of one of my childhood heroines; Destiny Angel.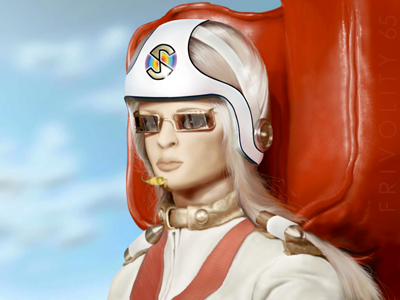 If you'd like to see the full version, she's here:
http://frivolity65.deviantart.com/art/D ... d-92953683
Thank you, frivvy. XXXx
Cadet

Posts: 7
Joined: Thu Jun 16, 2005 9:02 am
Location: The Nethers
---
Hello Frivolity!
This Destiny picture is very good! You did a fine job working on this one. Do you have more?!
The Fan Arts section on thsi website is relatively new, although we have had a few stuff sent to us over the years which can be found in the Halloween section and Christmas section. Quite recently, I created the Fan Arts page, which is well-hidden in the Miscellaneous section (so sorry...) Here's the direct link:
http://www.spectrum-headquarters.com/fan_arts.html
Also check the Halloween and Christmas pages to see what we already have there.
Eventually, when we'll have more time, new stuff will be added to the fan arts section. So, if you have drawings, or anything else you , the fans, have created and you have taken a picture of, do feel free to send it to me by e-mail (
spectrum_hq@hotmail.com
).
Frivolity, your Destiny will find its niche in the Fan Arts section at the next updates! Thanks so much for offering it!

Colonel

Posts: 1752
Joined: Thu Jan 01, 1970 1:00 am
Location: Canada
---
Thanks, Chris.

I am hoping to do a picture of the Interceptor at some point. and thanks for the links, some of those pix are really hilarious

hehehee
frivvy. XXXx

Cadet

Posts: 7
Joined: Thu Jun 16, 2005 9:02 am
Location: The Nethers
---

This is brilliant, Frivolity ! I am speaking as someone to whom all this digi art stuff is a big mystery I will never have a hope of solving, so I am full of admiration for someone so obviously talented !
"A writer is somebody for whom writing is more difficult than it is for other people." Thomas Mann.
Major

Posts: 624
Joined: Thu Mar 08, 2007 10:06 pm
Location: Newcastle England
---
((HUGS)) Thanks Skybase Girl. I'm more used to photomanipulation than painting, I'm still pretty new to it. Do give it a shot if you get photoshop, I will warn you, it's pretty addictive, heheheee!

Thanks again, frivvy. XXXx

Cadet

Posts: 7
Joined: Thu Jun 16, 2005 9:02 am
Location: The Nethers
---
Frivolity, that is awesome!
Chris, is there any chance of link on the Forum Index to the fan arts section? Pretty please with a cherry on top?

"Do I Get A Coconut?"

"If We Get Out Of This Lieutenant, I'll Buy You All The Coconuts You Can Eat!"
Lieutenant

Posts: 193
Joined: Wed Mar 02, 2005 3:05 am
Location: Blackburn - Home of Barry Gray - Lancashire, England
---
That is beautiful!! Thanks for sharing it with us.
Our friends are just Angels without wings...and they never ever leave us, even when we can't see them beside us.
Major

Posts: 1105
Joined: Sat Jun 14, 2008 5:34 pm
Location: Wolverhampton
---
---
Users browsing this forum: No registered users and 1 guest