| | |
| --- | --- |
| | Craft and Equipment: SPJ BLUEPRINT & CUTAWAYS |
CAPTAIN SCARLET and the MYSTERONS UNOFFICIAL WEBSITE

Maintained by Chris Bishop
Information in the following has been taken from many sources, especially from "CENTURY 21" No.15, Winter 1993, Special Captain Scarlet Issue".
Captain Scarlet Annual 1967 and Annual 1968, "Captain Scarlet & the Mysterons" Comic, Issue No. 6,
and various other sources, have provided additional information, such as cutaways.
SPECTRUM PASSENGER JET
(SPJ)
BLUEPRINTS & CUTAWAYS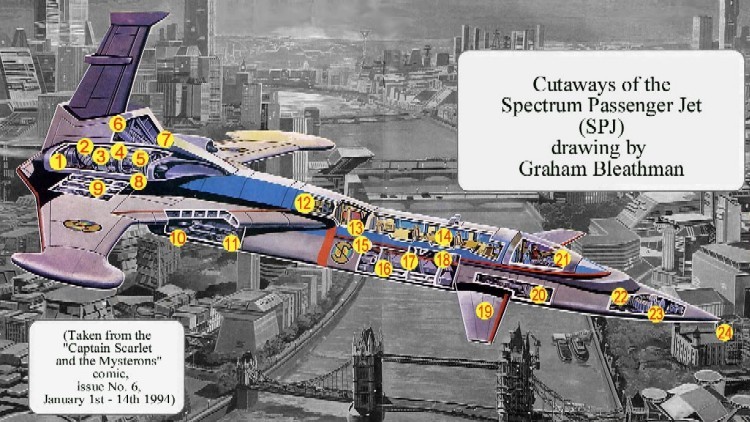 Starboard reheat turbo jet atterburner.

Bled-off air duct for retro braking.

Turbine, driving compressor.

Firing chamber.

Compressor blades.

Fuel pumps.

Brackets supporting high tensile activation rod.

Hydrolic rams, operating activating rod which controls the angle of the wings during landing procedures. In an emergency, the wings can be rotated a full ninety degrees to act as an airbrake.

Internal brackets supporting activating rod within the rotating outer section of wing.

Starboard landing gear pivot. When landing, the undercarriage swings out ninety degrees from the line of the fuselage while the wheels unfold downwards.

Duel landing wheels, shown folded under landing gear stanchions when not in use.

Galley, leading to toilet and additional storage area beyond.

Exit hatches, separated by pressure bulkhead airlock. Each door swings downward and contains an integrated gantry and hand rail.

The roomy cabin can be converted to serve many purposes, including a VIP lounge, conference or planning room and on some versions, with full capacity seating as a personnel carrier.

Fuselage section incorporating fuel tanks, control lines and service ducts.

Fuel, water and oxygen tanks.

Central fuel tank.

Port side of fuselage contains baggage hold, supplies and extra storage spaces.

Starboard stabiliser, used to maintain stability at supersonic speeds and to keep the aircraft's nose up when landing on Cloudbase.

Forward landing gear.

Cockpit, with seating for pilot, and either co-pilot, radio operator or occasionally even a passenger.

Pressure bulkhead, within which are control systems and central flight computer.

Radar antennae.

Nose probe with gust detectors, air speed and pressure instrumentation.
PASSENGER CABIN:

The roomy cabin

(1) can be quickly converted to serve many purposes: V.I.P. lounge, or with full capacity seating as a personnel carrier. The cockpit (2) can take pilot and co-pilot, navigator/radio operator, or with pilot only and a "black box/ taking the crew's place. The stabilisers (3) become necessary at supersonic speeds and also help to keep a nose-up attitude when landing on Cloudbase. Separated by pressure bulkhead (4) the instrument compartment contains radar antennae (5) and flight computer links serving gust detectors and air-speed indicators in the nose probe (6).
FUSELAGE SECTION:

Shows strong, double-egg construction. The lower fuselage bulge is largely given over to housing fuel tanks

(3), giving the craft enormous range. (1) Cabin area. (2) Cabin service ducts (air, oxygen and lighting cables kept well away from fuel tanks). (4) Baggage hold.

POWER-PLANT:

Twin reheat turbo jets of a special Spectrum rating, either one of which will keep the plane airborne.

(1) Compressor blades. (2) Firing chamber. (3) Turbine driving compressor. (4) Bled-off air for retro braking. (5) Fuel pumps.
LANDING GEAR:

It is unusually light and compact. The diagrams show it extended at

(A), beginning to retract with wheels folded under (B), and swinging inboard (C). When landing, the entire outer wing turns through 90 degrees to act as an airbrake. Hydraulic rams (1) rotate the high-tensile actuating rod connecting the two wings. This is attached to the main fuselage members at brackets (2) and to the wings at (3). The shadowed area behind the undercarriage shows the wing position for normal flight.
CLOUDBASE - ANGEL AIRCRAFT - SPECTRUM PURSUIT VEHICLE (SPV) -
MAXIMUM SECURITY VEHICLE (MSV) - SPECTRUM PASSENGER JET (SPJ) - SPECTRUM HELICOPTER -
SPECTRUM SALOON CAR (SSC) - YELLOW FOX, GASOLENE TANKER - SPECTRUM DETECTOR VAN -
SPECTRUM HOVERCRAFT - SPECTRUM CLAM SUB - MAGNACOPTER
HOME | THE WORLD OF CAPTAIN SCARLET | CAST OF CHARACTERS | CRAFT AND EQUIPMENT | EPISODE GUIDE |
MERCHANDISING & TRADING | CAPTAIN SCARLET FAN FICTION | MISCELLANEOUS |
THE OTHER WORLDS OF GERRY ANDERSON | LINKS | SID DATABASE |
COMIC STRIPS PETITION | GUESTBOOK |
SKYBASE CENTRAL (CGI SERIES) | SPECTRUM HQ FORUM | UPDATES | NEWS PAGE
You can send your comments to:
scarlet1bishop@hotmail.com