| | |
| --- | --- |
| | Craft & Equipment: CLOUDBASE MEDICAL CENTRE |
CAPTAIN SCARLET and the MYSTERONS UNOFFICIAL WEBSITE

Maintained by Chris Bishop
CLOUDBASE MEDICAL CENTRE
(SICKBAY)
CUTAWAYS AND PHOTOS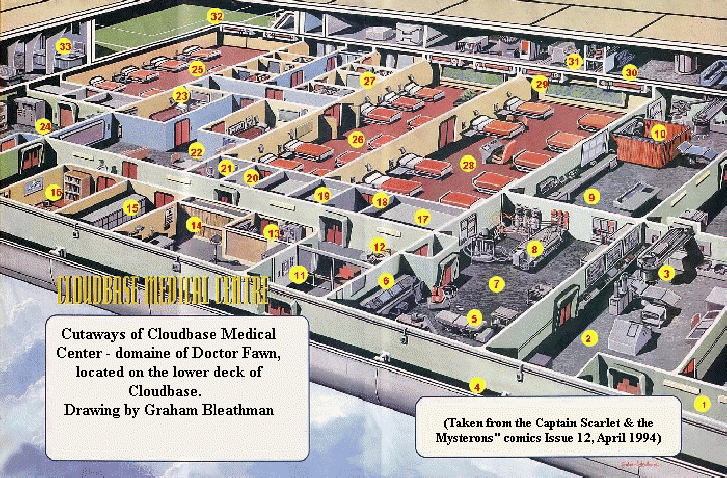 Access corridor from Helicopter landing pad to emergency operating theatre

Operating theatre.

One of two 'auto-docs', used to assist Doctor Fawn and his colleagues in emergency surgery. System incorporates laser scalpels, mini video and 3-D cameras which can be operated automatically, or by specialists in ground based hospitals via computer link. Operating table lighting is supplied via the centra hub of the Auto-doc.

Main access corridor, encircling the perimeter of Cloudbase's lower deck.

Auxiliary operating table.

X-Ray computer and 3-D video monitor.

Main operating theatre.

Life recovery unit: although used as a computer-aided operating table, the unit is also employed to monitor - and for - the recovery of Captain Scarlet.

Pathological and medical laboratory.

Standby operating theatre.

Decontamination unit, one of several placed at all exits.

Medical Centre reception.

Computer room, continually checks and monitors the Medical Centre computer and life support systems, and provides emergency memory back up in the event of a power failure.

Outpatients surgery.

Cloudbase and Spectrum personnel medical micro files.

Doctor Fawn's office.

Sterilised equipment store.

Access to men's pre and post operational ward, and equipment store.

Equipment and linen store.

Access to women's pre and post operational wards, and linen stores.

Robot nurse storage bay.

Nurses' quarters.

Nurses' sleeping quarters.

Medical Centre laundry, leading to food preparation bay beyond.

General recovery ward.

Women's pre and post operational ward.

Bathroom facilities, with spa and physiotherapeutic aids.

Men's pre and post operational wards.

Ceiling mounted privacy screens, located directly above each bed.

One of several upper decks rest and recreation rooms.

Laboratory.

Soundproofed sports hall.

Reception for sports hall.
One of the most important department of Cloudbase, the Medical Centre (sickbay) is located on the lower of Cloudbase, adjacent to accesses to the Control Tower - and almost beneath it. This is, in fact, a fully equipped hospital, with the most sophisticated states of the art technology, run by a small team of doctors and nurses, under the supervision of Doctor Fawn. In these settings, Fawn has complete authority, and even Colonel White, when under his medical cares, is bound to follow his orders. As seen on these cutaways, the sickbay contains fully equipped operating theatres, intensive care modules, isolation ward, laboratory, etc. Doctor Fawn and his colleagues make use of the hich-tech auto-docs (3) in case of emergency surgeries. Chemical analysers (also called 'auto-analysers') can perform complex blood and toxin tests within seconds, while the Auto-Pharmacist can synthesise anything from headache pills to a cure for snake-bites in minutes. The corridor access in 1 leads directly from the Helicopter pad on the lower flight Deck to the emergency operating theatre, thus minimising waste of time when a wounded officer is brought from the ground to Cloudbase. This way, it also gives a direct access to the flight decks, in case of a crash landing.
SICKBAY MAIN OPERATING THEATRE, A view from the episode "Operation Time".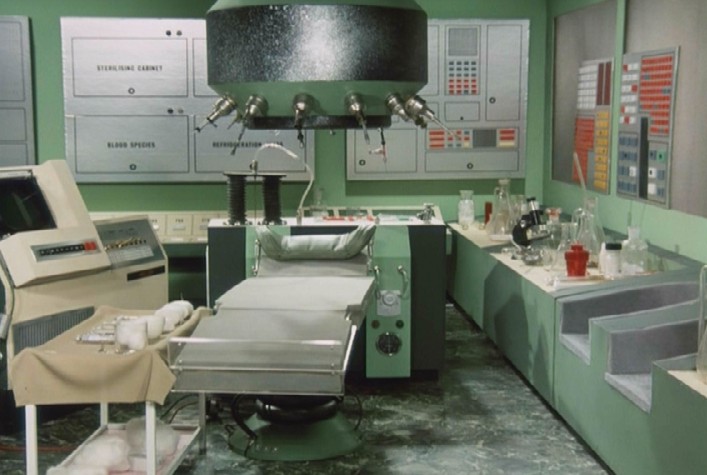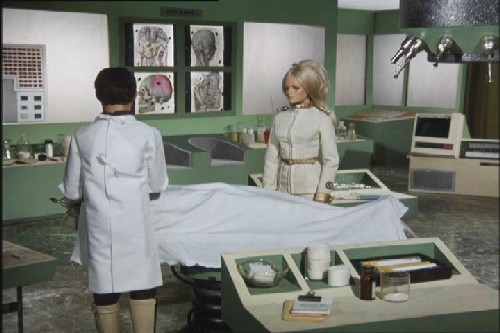 Destiny Angel prepares to identifythe body of Captain Scarlet
("The Mysterons", episode 1).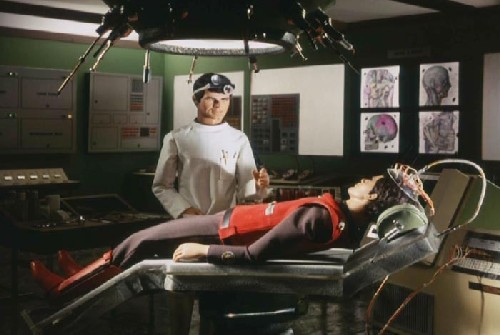 Same room, next episode ("Winged Assassin"). Under the care of Fawn, Captain Scarlet
tries to remember the events leading to his 'first death'.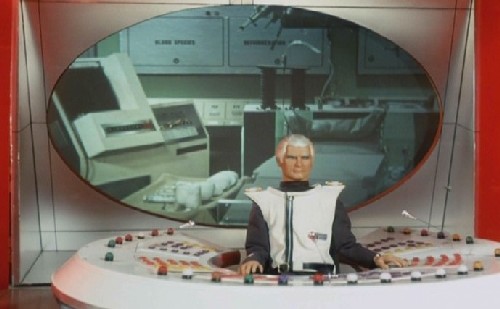 A camera set in the operating theatre permits Colonel White to watch on his screen
what will be happening there during the operation to save General Tiempo's life in
"Operation Time".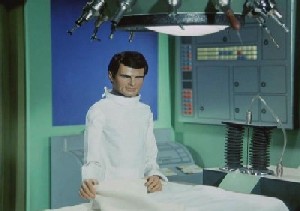 Doctor Fawn, waiting to receive the wounded Captain Scarlet, in "Attack on Cloudbase".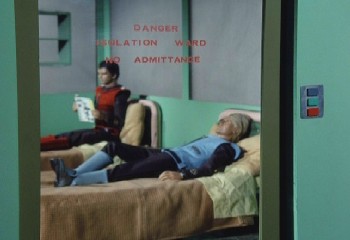 ISOLATION WARD
After Captains Scarlet and Blue are thought contaminated by a very deadly virus, they were isolated in this room in sickbay. "Place of Angels."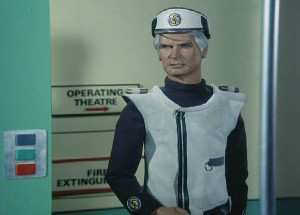 Colonel White had left the Control Room to come releasing his officers from the Isolation Ward, still in "Place of Angels". Note the directional sign in the background.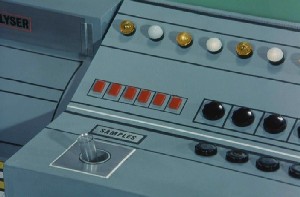 AUTO-ANALYZER.
A part of the Medical Centre high-tech equipment, the auto-analyzer can perform blood test and analyse the different components of many other samples.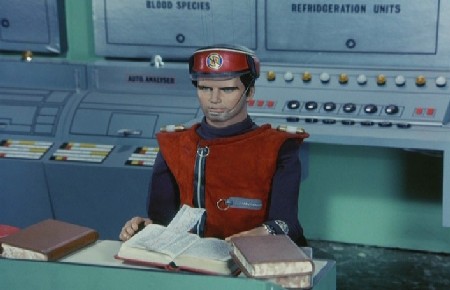 After using the auto-analyzer (seen in background), Captain Scarlet consults references books, to learn more about a drug found in a bottle of champagne. ("Flight to Atlantica")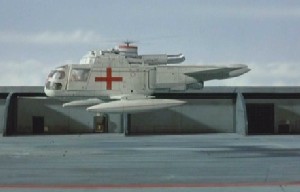 A MEDICAL COPTER landing on Cloudbase Helipad, on the lower flight deck. The orderlies onboard will bring down the sick or wounded agent directly down to sickbay. (Scene taken in "Place of Angels")
MAIN BODY AND LOWER FLIGHT DECK
AMBER ROOM AND UPPER FLIGHT DECK
CLOUDBASE - ANGEL AIRCRAFT - SPECTRUM PURSUIT VEHICLE (SPV) -
MAXIMUM SECURITY VEHICLE (MSV) - SPECTRUM PASSENGER JET (SPJ) - SPECTRUM HELICOPTER -
SPECTRUM SALOON CAR (SSC) - YELLOW FOX, GASOLENE TANKER - SPECTRUM DETECTOR VAN -
SPECTRUM HOVERCRAFT - SPECTRUM CLAM SUB - MAGNACOPTER
HOME | THE WORLD OF CAPTAIN SCARLET | CAST OF CHARACTERS | CRAFT AND EQUIPMENT | EPISODE GUIDE |
MERCHANDISING & TRADING | CAPTAIN SCARLET FAN FICTION | MISCELLANEOUS |
THE OTHER WORLDS OF GERRY ANDERSON | LINKS | SID DATABASE |
COMIC STRIPS PETITION | GUESTBOOK |
SKYBASE CENTRAL (CGI SERIES) | SPECTRUM HQ FORUM | UPDATES | NEWS PAGE
You can send your comments to:
scarlet1bishop@hotmail.com