MIKE NOBLE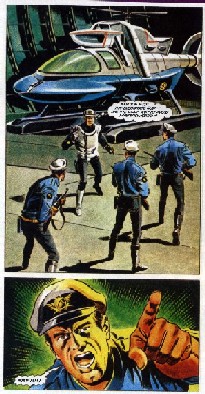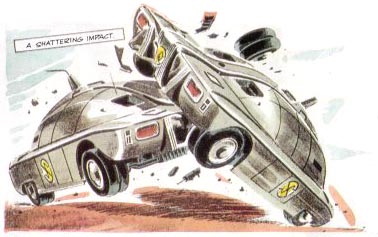 Born in 1930, in South Woodford (London), Mike Noble received a formal education before attending the School of Art S.W. Technical College in Walthamstow in 1946. During the latter part of the 40s , he worked in advertising at a studio in Holborn. In 1949, he served National Service by illustrating armoured vehicles, in the drawing office of the 8th Royal Tank Regiment. After demobilization, he worked in a Chelsea studio, and then moved in 1052 to Cooper Studios in Oxford Street, in London, where he trained to do magazine drawings for artist Leslie Gaswell, with work in Woman's Own, John Bull, Woman, Odhams, and the Birmingham Weekly Post.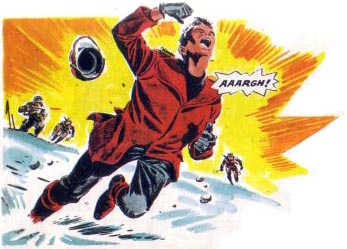 In 1953, Noble left advertising, to branch out to comic strip drawing. He started his own strip in Robin – which was at the time the younger version of Eagle Comic – for Hulton Press. After his success in this medium, he went freelance in 1956, and started working from home – and did ever since. After work in TV Comic, Noble became one of the resident artists on the TV Century 21 Comics, produced by Gerry Anderson's publishing arm that was exploiting the TV series produced by Anderson. His drawing works included Fireball XL5, Zero X and Captain Scarlet and the Mysterons. He illustrated an early Star Trek strip for the Joe 90 Comic in 1970, even before the Star Trek TV series became the cult success of today.
TV21 gradually dismantled and moved away from the Anderson fold, so Noble moved onto a the new title Look-In, which was produced by Independent Television Publications as a junior TV Times. Noble's work on a strip based on Timeslip then appeared regularly in the new magazine, nearly until the end in the late 80s.
Afterward, Noble's work in the 70s and 80s was various, and often illustrations of TV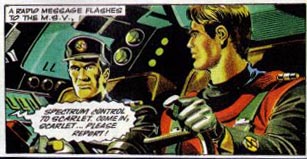 programming of the era: Follyfoot, The Famous Five, The Tomorrow People, Kung Fu, Worzel Gummidge, Robin of Sherwood and Space: 1999, with which he made a come back to drawing Gerry Anderson's productions based strips.
In the 80s, he retired from comic strips, due to family health problems. He concentrated on more lucrative work, by drawing magazine covers and illustrations. During the 90s, though, he sort of came back once again to Gerry Anderson's productions based works, by drawing covers and illustrations for the new Thunderbirds and Captain Scarlet comics.
To view a sample of Mike Noble's drawings, just click on the following miniatures. Those are just some samples I have put to demonstrate the extend of Noble's art. If you have other such samples and want to share them with people, feel free to communicate with me. Be aware, though, that I WON'T PUBLISH entire comic strips... It would not be fair for writers, artists, publishers, merchants, etc. This is just an information page.
An beautiful drawing of Captain Blue in action

Great action sequence - where Captain Scarlet is watched by Captain Black (from TV21, Issue 158).

A beautifully drawn action sequence

Another action sequence by Noble, explosion, flood and rescue (TV21, 162)

An SPJ leaving Cloudbase (TV21, Issue 158).

One of Mike Noble's last work for Captain Scarlet. A cover for Captain Scarlet and the Mysterons comics, Issue 6, in 1994.

Simple, but great. An image tells it all! (from the cover of TV 21, Issue 162)

Captain Scarlet falls victim to a trap laid by Captain Black! (from TV21, Issue 160).