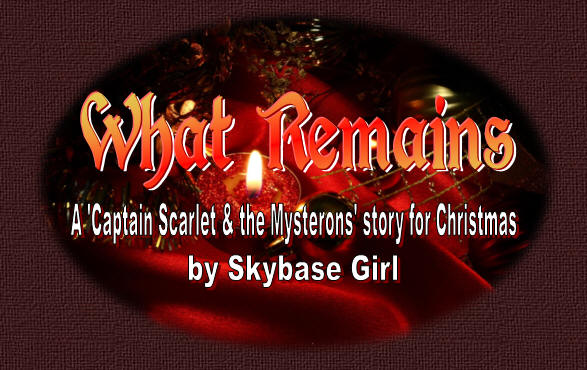 Out on the road that lies before me now,
There are some turns where I will spin.
I only hope that you can hold me now
Till I can gain control again.
Rodney Crowell
Chapter 1
New York City, 6 October 2100
The room was becoming hot, almost unbearably so.  He didn't know if the hotel's air-conditioning system had malfunctioned in a terminal way, or if there were simply too many people crammed into what was not the city's largest conference facility. Either way, breathing was becoming something he could no longer take for granted. He gave unspoken thanks to his commanding officer for not insisting he wear his dress uniform; had he had been required to deliver his address in anything other than a fairly informal jacket and tie , he might well be prostrate on the floor by now, which would certainly not enhance his reputation.
Colonel Scarlet of Spectrum was not in his element. He loathed what he called the "pink and fluffy" parts of his job and lecturing to up and coming recruits topped the p & f list. At one time, he thought ruefully, he would have taken all this in his stride; now, the older he got, the harder it was to look those keen youngsters in the eye and inject a spirit of enthusiasm into the next generation.
He gazed down at the rapt faces of the young men and women before him and, for the first time in his career, felt nothing. No sense of duty. No sense of responsibility. No sense of honour. No sense of anything, really, other than the words playing like a looped tape in his head; what the hell am I doing here?
The answer to that question lay in the past; five months in the past to be precise. On an afternoon in early May, the Mysterons had delivered their most devastating blow to date. During a memorial service on Cloudbase, attended by most of Spectrum's senior personnel both past and present, and many of the world's political leaders, Captain Black and his Mysteron cohorts had attempted to destroy the base and all those on board it. Spectrum's efforts to thwart disaster had been successful but were not achieved without great cost. The organisation lost not only its commanding officer, General Blue, but also Scarlet's wife, the former Rhapsody Angel.
And in the aftermath of tragedy, as he knelt on the floor of the base's tranquil, flower-filled chapel, cradling the bodies of his beloved wife and his best friend, Scarlet felt himself plummet into a well of emptiness from which he knew he would never be rescued. People tried, of course; Colonel Green, who replaced General Blue as Spectrum's Commander in Chief, had quietly and with great kindness, gone about the business of keeping him occupied, keeping him distracted, keeping him from dwelling on the loss of his soul. Seymour Griffiths, the softly – spoken West Indian who had been one of Scarlet's closest colleagues for over thirty years, understood that helping his friend move forward meant activity. Scarlet was not to be allowed time to think, let alone brood.
In the beginning, that hadn't been difficult to achieve. Seemingly angered by the failure of their most recent threat, the Mysterons plunged the world into a maelstrom of malevolence. Threat followed threat with a frenetic speed that left Spectrum reeling. Scarlet had put aside his grief and with a hate-filled precision that slightly alarmed those around him, he focused his mind and body on avenging the dead.
Inevitably, it didn't last. By September, life had calmed down; even Green was heard to joke that the Mysterons must have gone on vacation. Other terrorist groups also appeared to be lying low and Spectrum allowed itself to relax a little.
For Scarlet, this was not necessarily a welcome turn of events.  So called 'downtime' brought with it assignments he normally avoided like the plague – such as lecture tours. In the past, he'd usually got away with this avoidance on the grounds that public speaking was not his forte, an opinion shared by most of his colleagues, including his two former commanding officers. However, the soon-to-be Brigadier Green was made of sterner stuff. He was impervious to persuasion and Scarlet quickly discovered that the words 'not negotiable' had been moved further up the rules of engagement.
 Not that he particularly cared right now. After he'd been in The Well of Emptiness for two or three months, he'd discovered that in fact, it was far from empty. There were other things living there: unpleasant, frightening entities known as Memory and Anger. He avoided Memory as much as he could, but Anger lurked at every turn, filling his heart and lungs, choking him with bile. The only respite came from Sleep but Sleep would only put in an appearance if he was so physically and mentally exhausted there was no other option. So he chose to collaborate with Green's regime of relentless activity on the grounds that exhaustion provided a welcome oblivion, if only for a limited amount of time.
He was not, however, labouring under the delusion that keeping busy brought with it any healing properties. Scarlet was now one hundred and fifty-seven days into this new existence without meaning and he knew that standing on a podium in the Versailles Suite of New York's Carlyle Hotel was unlikely to change anything.  Although he was no longer consumed by Anger's bonfires and Memory had become a little easier to be around, Emptiness ruled the roost. He would always be in The Well.
Faces in front of him suddenly swam before his eyes and he blinked furiously. Swallowing hard, he forced himself to concentrate on his notes and keep his voice steady. Christ, Adam, he thought. Why is it me up here and not you?  You were always better at this stuff. I'm a soldier, not a ruddy politician. I'm not cut out to make speeches.
As always, there was no reply.
He looked down at the audience and realised he had paused in his delivery. In the first few rows, faces were gazing back in slightly puzzled expectation. He tried to continue but the words wouldn't come. The notes in front of him might have been written in hieroglyphics for all the sense they made. Sweat poured down his back as he fought unsuccessfully to retain his grip.
 There was a familiar buzzing sound in his ears and he couldn't focus properly. Not now, he thought frantically, knowing what would come next; trembling, nausea, flashing lights behind his eyes and then, if he completely lost control, a terrifying descent into darkness. These 'episodes' had been happening regularly of late, but usually in private, so no one else witnessed his weakness. This was a different matter; collapsing on stage in front of a hundred and ten people would be the ultimate humiliation.
Oh Dianne, where are you? I need you. Help me. As the familiar, desperate refrain rang in his head, he clutched the podium in an attempt to stay upright, fighting back the dizziness which threatened to bring him to his knees.
Then, out of the corner of his eye, he saw her.  At the back of the room, near the door, there was a flash of green, a tilt of a head and a smile. She was here. The world lurched once more then righted itself.  His pulse slowed as his lungs expanded. The pressure inside his head that had reduced his vision to little more than a pinprick receded, allowing him to focus again.  She was here and he was saved. Thank God.
The dizziness was still a problem, though. He took a deep breath and said as calmly as he could, "It's really hot up here. Could someone get me another glass of water before I disgrace myself by passing out on you all?  Some of you have travelled a long way for the dubious pleasure of listening to me talk, so I'd hate to cut it short, even if there are those who'd prefer it if I did."
A ripple of laughter went through the audience and he relaxed slightly as someone hastily thrust a cold drink in his hand. Gulping down the contents of the glass, he gazed over its rim at the woman framed in the doorway and noted her tiny nod of approval. Her eyes seemed to say, "Keep looking at me and it'll be okay."  He did exactly that and found to his astonishment that it was. Rediscovering both his voice and his notes, he managed to conclude his speech with a degree of confidence. He even got through the inevitable question and answer session with a reasonable amount of aplomb.
Eventually, it was all over bar the hand-shaking and effusive votes of thanks. As the audience filed out of the conference room, most heading in the direction of one of the hotel's bars, Scarlet wiped his sweaty palms on his trousers and made his way towards the tall, slender blonde who hadn't moved from the doorway.
"Karen."  There was only one word as he opened his arms and she moved into them, saying simply, "Paul", as she laid her cheek against his. They stood for a few moments in a wordless embrace until eventually he stepped back and said quietly, "It's so good to see you.  I was beginning to think you wouldn't make it."
"So was I," Karen Svenson admitted frankly. "I'm sorry to be late, Paul.  My meeting with the Board over-ran and I almost missed my flight from Boston. Of course, if I'd done what I planned in the first place and borrowed the SvenCorp jet, it wouldn't have been an issue, but by the time I realised the time, I figured I wasn't really dressed for piloting anyway, not with these shoes." She stuck a stiletto-heeled boot out at him as he stared in bemusement.
"Then, just getting a taxi from the airport was a nightmare," she continued, apparently not expecting a comment from him on her footwear. "Have you ever tried it, Paul? Take my advice, don't.  I'd forgotten what terrible drivers New York cabbies are; and how rude. I'm amazed I've arrived intact and with full hearing, because my ears feel like they've been singed off."
Scarlet smiled in fond amusement as she finally paused for breath. "It doesn't matter," he said. "I'm just glad you're here now. You didn't miss much really; just another load of corporate bollocks."
She shook her head. "I heard enough," she replied, giving him an appraising look. "Don't do yourself down. You were very good: they lapped it up. I won't pretend to understand the latest techno-speak, but the kids were clearly impressed."
Scarlet groaned. "Bloody buzz words and nonsensical jargon," he muttered. "Even I don't know what half of it means. Whatever happened to the days when 'car parking' actually meant parking your car?  I think it's time I retired."
"Retired, you?  No chance," she said lightly, giving him a playful punch on the arm. "You'd be bored silly. What on earth would you do with yourself?"
His eyes gleamed. "Cricket, Karen, cricket. Need I say more? Dianne used to say that moving to Owslebury was her master stroke; the only way she finally got me to leave Winchester was by finding us a house in a village with an impeccable cricketing history. If I spent more time at home, I wouldn't be just an absentee member of the team. Watching me actually play was on her bucket list, but I suppose...."
His voice trailed off as Memory suddenly thrust a knife through his ribcage, twisting it deep into his heart. He couldn't breathe and he couldn't focus. The words, she'll never get to tick that one off now, went unspoken as hot tears stung his eyelids. Memory was clearly not ready to make peace with him yet.
"Are you okay, Paul?" Karen's concerned voice finally reached him through the pain and darkness. Forcing air into his uncooperative lungs, he fought his way back to reality.
"Yeah, I'm fine. It was just.... well, you know how it goes. A bit of a wobble, that's all," he said, with an attempt at a reassuring smile. "It happens, sometimes. But you're right, retirement probably wouldn't suit me; and I dare say the cricket team'll continue to manage perfectly well without my services."
"I dare say it will," she agreed, resting her hand briefly on his arm; a gesture that told him there was no need for further explanation. She understood, of course she did. They belonged to the same exclusive club, membership available only to the recently bereaved. Yet there was a slight awkwardness between them which had never been there before and he knew it was because they were both treading on eggshells as they tried to find their feet in this new, altered state of widowhood.
His hesitant, "Karen, would you like to....." came at precisely the same moment she voiced her tentative, "Paul, shall we...."
They both laughed and he was about to say, "You first," when his words were whipped away by a hand landing on his shoulder with the force of a meat cleaver. Startled, he turned his head to gaze into the florid face of Stan Bartowski, code-named Major Cherry. Bartowski was a fifth-generation Pole, born and brought up in the Bronx, with a successful career as an undercover cop before he'd joined Spectrum and rapidly risen to the dizzy heights of heading up its North-American East Coast Division.  This he did with remarkable efficiency; although he could be blunt to the point of rudeness and ran his department with a complete disregard for any form of political correctness, his instincts were top notch. His staff didn't necessarily like him, but they respected his judgement and gave him their loyalty. Scarlet, on the other hand, could barely tolerate him.
"Good speech, Colonel, I think you got the message out there," he said in his customary bombastic manner, eyeing Scarlet critically. "I'm not sure the casual look was a good idea, though. Wearing your uniform would have given you a little more authority, I feel. I'm rather surprised the Brigadier didn't insist."
Scarlet fought back his irritation. Punctilious little twerp, he thought. Just who the hell does he think he is?  "It was a judgement call, Stan," he replied evenly. "Brigadier Green and I both agree that full dress uniform can sometimes be a little intimidating.  I prefer an informal approach; it helps folk relax. Besides, I've always believed it's what you say that counts, not what you look like."
The thinly veiled rebuke was too obvious even for Cherry to miss. He flushed, his round cheeks turning a slightly darker shade of red than his tunic. "Yes, well. As you say, sir. A judgement call," he replied stiffly, turning his back slightly to greet Scarlet's companion. "Mrs Svenson, what a pleasure to see you again; although I'm a little surprised you have permission to be here. These events are usually only for serving personnel."
 Karen saw Scarlet's face darken with anger. He said icily, "I invited Mrs Svenson to join us today, Major. Not that she needs an invitation, of course; as a former Angel pilot and wife of our late Commander- in- Chief, she has every right to be here. Do you have a problem with that?"
Cherry saw his mistake in time. "No, of course not," he said quickly. "I wasn't trying to imply..." He turned back to Karen. "You're very welcome ma'am, and once again, I offer my condolences on the loss of your husband. He was a fine man."
"Yes, he was. Thank you, Major," Karen replied, graciously ignoring the politely unctuous tone with its edge of contempt. She decided she'd had enough of Major Cherry. "Paul, didn't you mention you'd booked us into the restaurant for lunch?" she said, tucking her arm through his. "We'd better go and find our table before they stop serving."
Cherry had quickly recovered his equilibrium and was not about to be thwarted. "I'm afraid not, Mrs Svenson. I really need to speak to Colonel Scarlet about......operational matters," he declared firmly. He turned to his fellow officer. "If you recall, sir, we arranged a case conference after the seminar. There's a lot to discuss."
Scarlet was equally firm. "Perhaps so, Stan, but not here and not now. The lady needs to eat and I intend to make sure she does. I'll drop by your office later on this afternoon and we'll talk then." He gave Cherry a bland smile.  "Will three-thirty suit?"
The major knew when he'd been out-manoeuvred. He acquiesced with a sullen look, trying to contain his disappointment and anger that he was not going to be invited to share a meal with Spectrum's glitterati. Would never have happened in General Blue's day, he thought savagely. He knew how to treat his staff; no standing on ceremony with him. No talking down to people; no turning up on the job dressed in friggin' jeans, for God's sake. Whatever happened to standards? Old General White would be appalled at how lax things are becoming. He stomped out of the Versailles Suite and headed to the elevator which would take him down to the Carlyle's underground car park where his Spectrum Saloon Car waited to transport him back to his office on Madison and his normal lunch of pastrami on rye.
"It seems Stanislaus is still the pain in the ass he's always been," Karen observed dryly, as they watched Cherry's departing back.
Scarlet gave her a look of surprise. "I didn't realise you knew him that well," he said.
"I don't really," she admitted. "But Adam talked about him a lot. He respected Cherry's abilities, but found him awkward to deal with. We once went out to dinner with him and his wife. He was pleasant enough and she was lovely; but I got the impression he doesn't like many people. Maybe that's what happens when you spend twenty years getting down and dirty with the lowlife in the Bronx."
"He hates me more than most, I think," Scarlet mused. "He seems to delight in finding ways to trip me up, try to make me look foolish. It's like a personal vendetta and for the life of me, I can't figure out why."
"Oh, that's easy," she replied with a grin. "It's jealousy, pure and simple. You look way better in red than he does, honey."
"What?  You're telling me he's got a chip on his shoulder over a uniform?  That's ridiculous!"
She shook her head. "No, it's not.  Think about it, Paul.  What's he got going for him? Not a lot; fat and fifty with a career that's going nowhere. He knows he's only in that job because he can't hack active service any more. He's a bald, unattractive man who's had the misfortune to be assigned a colour that doesn't suit him. I don't suppose he's thrilled by what he sees in the mirror every morning. And each time he comes face to face with you, he gets a reminder of everything he's not.  It isn't surprising he's hostile."
Scarlet bristled. "Well, that's no reason to be difficult," he said defensively. "What the hell happened to professionalism? Can't the man put aside his prejudices?"
"Probably not; jealousy is irrational. And in my experience, men are quite as capable of irrational emotion as women, although they seldom admit to it."
He sighed heavily. "Well, that may be so, but it doesn't make handling the odious little sod any easier."
"You've allowed him to get under your skin and that's not like you," she pointed out briskly. "Take control; bear in mind you outrank him. Don't let him push your buttons. He's an obnoxious windbag, that's all. And now that you feel sympathy for his plight, you can be the bigger man. You can afford to be magnanimous in your pity, you can....." 
"Stop." Scarlet held his hand up in front of her face. "Just stop, Karen. I appreciate the advice, but I don't feel remotely sorry for Major Cherry and any issues he has with his appearance won't affect my attitude towards him in any way. There's still a good chance I'll punch his lights out before the day is done." He yanked his tie loose from his shirt collar and thrust it in his jacket pocket. "Now, can we please, please get out of this room? I'm dying in here."
She shook her head in mock despair. "There's no pleasing some people, I guess. Okay, Colonel; lead me to the restaurant, order me a Martini. I could use a restorative."              
"Actually....." Scarlet paused and gazed out of the hotel window at the glorious autumn foliage. "I'd quite like to get a breath of fresh air. Central Park is just over the road.  Fancy a walk in place of lunch?  I'll buy you a burger, if the hunger pangs get too much."
Karen pulled a face. "Great," she muttered, feigning disappointment. "Never let it be said you don't know how to show a girl a good time. Do you run to onions and relish as well?"
"Whatever the lady wants," he replied blandly. "I'll even throw in fries, although it might be tough to justify my expenses claim in these straightened times."
She stuck her tongue out at him and for a second, the years rolled back and he caught a glimpse of the insouciant young woman she'd been thirty-two years ago.  Karen Amanda Wainwright, the brilliant mathematician, spy and pilot who, at just twenty-six years of age, had become Spectrum's Symphony Angel, spear-heading the fight against the Mysterons. Cool under pressure, but impulsive and capricious in her private life, she had immediately captured the heart of reserved, level-headed Adam Svenson, codenamed Captain Blue.  It was an attraction of opposites, a relationship many thought would never last; yet the hold had endured up to his death and beyond, undiminished by years of passion, friction and despair.  
Stepping out into the bright autumn sunshine on East 76th Street, Scarlet looked at Karen properly for the first time since she'd arrived.  At first glance, she appeared at least a decade younger than her fifty-eight years. Slender to the point of emaciation, she was immaculately dressed in a fern-green trouser suit, teamed with a cream lace blouse and black high heeled boots.  Dark blonde hair, longer than he remembered, tumbled loosely across her shoulders in an expensively casual fashion.  Her skin, surprisingly unlined, was beautifully made up, the pencilled eyebrows arching elegantly over long-lashed hazel-green eyes. The familiar scent of 'Eternity', the perfume her husband had always bought for her, hung in the air.
Yet, despite his sudden flash of déjà – vu, Scarlet realised there was little left of the dazzling young woman who'd been his wife's best friend and had gone on to marry his own best friend.  As she turned towards him in the brightness of the sunlit October afternoon, he saw beneath the perfect façade; the deep bluish-purple shadows under her eyes, the sharpness of the jutting collarbones; furrowed lines of exhaustion on her forehead; a slackness around the jaw line that had never been there before.  
So: she doesn't eat and she doesn't sleep, he thought fleetingly. She's probably a bigger mess than I am, although why I should be surprised by that, I don't know.
As they waited for the lights to change to allow them to cross Fifth Avenue, he said, "How are you doing, Karen?  How's business?"
She gave him a sardonic smile. "Well, I haven't bankrupted us yet, you'll be surprised to hear."
"Not surprised at all. I never imagined you would."
"Really? You must be the only one who didn't, then – including me."
Scarlet sighed inwardly. Karen's lack of self-confidence in matters she did not consider to be her forte was legendary. "Not the only one, Karen." he said, unable to keep a slight note of exasperation out of his voice. "Adam gave you executive control of SvenCorp for a reason. He knew you were the right person for the job."
She raised an eyebrow. "Oh, yeah?  So it wasn't just to piss off his brother Peter and keep the Svenson family feud going? Let's face it, at the time of the funeral, no-one knew he'd added a codicil to his will; I certainly didn't and I was sole executor, for heaven's sake. Peter thought everything was nicely sewn up, all done and dusted, overall control went to him. He certainly didn't expect to have his ditzy sister-in-law throwing spanners in the mix. That was fine by me – I'd never wanted to be involved in the business, anyway. But then...to discover Adam hadn't bequeathed all his shares to the family – he'd left them to me, along with his voting rights....we were all stunned."
The lights finally changed and they joined the lunchtime crowds forging their way into Central Park. "This is what I don't understand, Paul," she continued as they strolled towards Conservatory Water. "Why would Adam give me any financial control of a company that's listed in the Dow Jones?  For crying out loud, I'm so financially inept I can't hang on to a credit card for five minutes before I flush it down the loo! Why would he even think I'm capable of running a business?"
"Have you?"
"Have I what?"
"Flushed a credit card down the loo?"
She glared at him. "Of course not! That was just a figure of speech."
Scarlet grinned. "There you go, then," he said. "What's the problem?"
"The problem is...." she began.
He grabbed her wrists suddenly and turned her to face him. "No, Karen," he said sternly. "If there's a problem, it's you. You're both the smartest and the dumbest person I've ever known and I'm damn sure Adam thought the same. You might underestimate yourself, but he never did.  He always understood what you were capable of. If he left you in charge of any part of SvenCorp, it's because he knew that you're more than a match for his brother Peter, or any other Svenson, for that matter. You can do it. So, let me ask again; how is business?"
She snatched her hands away, making a show of rubbing her wrists. "God, you're brutal," she muttered. "Have I ever told you how much I hate you?"
"Yes, many times. Now give me an honest answer."
She paused in her tracks, not heeding the expletives of the elderly lady who cannoned into her from behind. "All right," she said eventually. "The honest answer is good. No, better than good, actually. We're doing very well at the moment; I think Adam would be pleased. We've expanded into some Asian markets that have been closed to us up till now."
Scarlet gave her a quick hug. "That's excellent," he said. "Is that down to you or Peter?"
She hesitated. "It's a bit of both, I suppose. Peter's the one with the experience and the contacts. He does know what he's doing – most of the time - so I have to let him call the shots. But he'd been trying to negotiate with the Chinese for years and hadn't gotten anywhere. The trouble is, he's too bullish and they don't like that; they prefer a softer approach. So, I persuaded him to let me have a go and it turned out that charm and diplomacy can work wonders; along with a short skirt and a low-cut top, of course. It was a done deal before I'd even fluttered my eyelashes."
"I'm damn sure it took more than that," Scarlet replied, with a chuckle. "But it just goes to show that Adam knew what he was about."
She grimaced. "Perhaps. We'll see. Peter's calling it beginner's luck and maybe he's right. I'm only too aware of how much I have to learn.  I've enrolled on a business management course at MIT, just to try to get my head round it all.  I'm coping, but only just."
"I don't believe you for a second," he replied with a grin. "A course like that should be a walk round the block for you."
"Paul, I'm not the bright young thing I used to be. I've fried too many brain cells to compete with the best of today's generation.  I'll be lucky to graduate with a pass."
"Nah, not you. It'll be distinctions all the way."
"Your faith in me is touching," she replied with a wry smile. "But it's not so much whether I can do it; it's whether I want to.  Peter's not the only Svenson who resents what he sees as my intrusion into the family firm; Katherine and David aren't too happy about it either. They're occupied with their own divisions, so they don't interfere too much, but...there are times when the atmosphere is positively toxic." She turned a downcast face to his. "I just don't have the energy to deal with it, Paul.  I'm so tired; all I want to do is sleep and I can't."
"Yeah, I know the feeling," Scarlet replied soberly. "But look at it this way – it's keeping you occupied, which everyone seems to think is a good thing."
She shrugged. "Well, I must admit if Adam only put that codicil into the will to ensure I wouldn't have too much time on my hands, he played a blinder. It's certainly worked, even if I could strangle him for doing it."
"You don't have to hang on in there if you don't want to," Scarlet pointed out. "There's nothing to stop you from selling your shares and walking away from it all."
"Yes there is," she replied with a rueful smile. "Adam. I'd feel like I was letting him down; like I was quitting on him, not just the company. I can't do that." She stopped dead in her tracks, blinking furiously. "Oh, Christ, here we go again. I'm so bloody sick of crying. Why can't the tears just stop?"
Scarlet made no reply. He simply fished a crumpled tissue from the pocket of his jeans and handed it to her. Across the lake, a golden retriever joyfully gave chase to a ball thrown by the owner of a large black Labrador. Both dogs reached the ball at the same moment and vied for possession, barking madly at each other. Two swans, startled by the noise, rose in the air in sudden panic. His eye caught by the commotion, Scarlet watched as the dogs' owners, a blond man and auburn-haired woman, tried in vain to prise their animals apart. Eventually, size won out and the victorious Labrador raced off with the ball in its mouth, ignoring shouted instructions to come to heel.
"Do you ever......think you see them some place?" Karen asked suddenly, stuffing the mascara-streaked tissue into her shoulder bag. Having recovered her composure, her gaze was on the dog owners, who appeared to have given up on controlling their charges and were now deep in conversation. "Logically, you know it's not possible, but still, you think.....maybe. Then you look again and realise it's someone who doesn't even bear a passing resemblance and you feel like such a fool."
Scarlet shook his head. "Not to me," he replied quietly. "I don't see either of them; which is may be strange, because everyone says it's common in grief to imagine you've seen someone you couldn't possibly have. I search for them sometimes, hoping I'll catch a glimpse of a presence, just so I won't feel so......abandoned. But they're never there."
She gave him a thoughtful look, but said only, "I feel like I've existed on nothing but caffeine all day. When are you going to lead me to the promised burger, Metcalfe?"
"We're heading in the right direction," he reassured her. "It's just round the corner; New York's finest mobile takeaway, so I've been told. They'll even supply napkins for an extra dollar. Nothing but the best for you, Angel."
"Wonderful. I'm salivating already," she replied sarcastically. "Lucky for you I'm such a cheap date. I bet you'd never get away with treating today's Angel Squad to junk food eaten on the hoof. They expect finer things."
He rolled his eyes. "Indeed they do.  Madrigal always insists on caviar with her fries and Sonata comes out in hives at the merest whiff of a hot dog. Those girls are high maintenance."
Karen grinned. "Hey, what can I say? They were my protégées and I trained them well."
"You certainly did," he acknowledged as they strolled up Cherry Hill towards Strawberry Fields, the peaceful tear-drop shaped area of Central Park dedicated to the memory of an iconic British pop star. "They're the best of today's pilots. I'm dreading the day they decide to step down because I haven't a clue how we'll replace them. There just doesn't seem to be anybody on the horizon who comes close."
"There will be," she replied confidently. "Talent usually comes through when you need it."
"Let's hope so." He reached inside his jacket to pull out his wallet as they approached a large white van bearing the red-lettered legend, 'Willie's World-Famous Burger Bar'.  "Look, why don't you grab that picnic table over there while I get our grub? Do you want cheese on yours?"
She nodded. "The full works, please; and a diet Coke."
"Okay. Back in five."
By the time he'd returned with a loaded tray, she'd settled herself on a wooden trestle table and was busily checking messages on her phone. "Can't leave business behind for five seconds, can you?" he teased, handing her a plastic container and a napkin rolled around a knife and fork.
Snapping shut the communication device, she pulled a face. "Not by choice, I'm afraid," she answered soberly. "I just need to try and stay one step ahead at the moment. That way, I can hopefully avoid any nasty surprises that may be lobbed my way by the in-laws." Dipping a French fry in relish, she nibbled delicately on it, sighing in sudden pleasure. "Oh, this is great. I haven't had fries in years."
"Some foods are just meant to be eaten outdoors," he agreed. "Like fish and chips on the pier in Blackpool during the Illuminations. You can't beat it."
"Mmm."  Deftly snapping open the can, she took a long swig of her drink before setting it back down on the table. Then she said, "Paul, what's wrong?"
He paused in the act of raising his cheese burger to his mouth. "Wrong? What do you mean? There's nothing wrong; apart from the obvious, that is, which we both clearly understand."
She shook her head. "Don't kid me; something happened to you up on that podium today. I'm not sure what it was, but there was a moment when you almost lost it. I've never seen you do that before. I thought you were going to pass out. You looked dreadful and frankly, you still do. So what's going on?"
He was silent for a moment, his eyes fixed on the intricate black and white mosaic of John Lennon's memorial plaque, 'Imagine.' "Odd, isn't it?" he said at last, with a reflective nod towards it. "That was supposed to evoke a vision of peace; hope for a world without war, famine, strife. It's been here for a hundred and fifteen years and we're no nearer attaining those ideals than we were back in 1985. I wonder what John Lennon would make of it if he were here now?"
"I think he'd be pleased that people are still singing his songs," she replied softly. "There aren't many things that endure as well as music; at the end of the day, it's a pretty good legacy to leave."
"I guess so." Scarlet gave her a pensive look before reaching across the table to close his hand around her fingers. "I'm sorry, Kaz. I didn't mean to worry you earlier. The truth is, I don't really know what's going on with me. I've been having......odd spells, lately. I'm not sure what they are, or why I'm having them."
"What do you mean by odd?" she asked, frowning.
"It's hard to describe. Sometimes it's like I've been sucked into a black hole. I feel like I'm drowning; or suffocating, it's not always clear which. I get dizzy, nauseous; I don't know where I am. If I completely lose control I think I do sometimes pass out, even if it's only for seconds; a couple of times I've found myself on the floor and I don't know how I got there. It's really scary."
Karen looked worried. "Have you talked to the medics? What does Doctor Beige say?"
"That there's nothing wrong with me; nothing physical, anyway. Her opinion is that it's all part of the grieving process."
"Paul, passing out... looking as ill as you do... that's not normal," Karen said sharply. She searched his face with accusing eyes. "Are you sure you told her everything? The bit about passing out? You didn't, did you? I bet she has no idea."
"Well.... maybe I made light of it," he admitted, with shame-faced reluctance. "But just talking about it makes me sound like a basket case. I'm telling her it feels like I'm dying and she's telling me it's just a panic attack. What kind of idiot does that make me?"
"A bigger one than Eva Javorsky thinks," she snapped. "You have to come clean, Paul. What if you have one of these episodes when you're out in the field?  You could be in serious trouble and so could everyone around you."
"That thought does terrify me, I admit," he said soberly. "It hasn't happened so far, but......"
"But it might," she said, finishing his sentence. "So when you get back to Cloudbase, make an appointment to see someone and talk it through. Do it for my sake, if nothing else. I need you conscious and fully-functioning, otherwise how am I going to lean on you as I do?"
He gave her a weak smile. "I'm fine, Karen. I'm all right. Don't fuss. This will pass, I'm sure."
She shook her head. "You're not all right," she retorted vehemently. "Neither am I; maybe we never will be again. But there is help out there, Paul.  I've learned to ask for it and now you need to do the same."
She watched his face carefully, trying to gauge the depth of his confusion and anxiety.  He suspected, even if he didn't want to admit to it, that whatever he was experiencing went beyond the desolation of grief and loneliness. Scarlet's biggest fear had always been that one day he would be unable to resist surrendering himself to Mysteron control once more. Now, he didn't know what was happening to him and he was terrified. And so, frankly, was she.
Fighting down her fear in case he sensed it, she said, as lightly as she could, "Why don't you talk to Doc Fawn? I'm sure he'd love to hear from you. He was just telling me the other day that you and he haven't spoken since he retired."
Scarlet raised an eyebrow in surprise. "You've been in touch with him?"
"More the other way round, I suppose. He calls me at least once a week, just to see how I'm doing.  We have a friendly chat, which usually ends up as a thinly-veiled professional consultation. But oddly enough, I don't mind the subterfuge; he's suggested coping strategies that might be of use, given me the names of support groups he thinks I should know about. I must admit, I've found some of it helpful. But I think sometimes it's as much for his sake as mine; he's stuck out on that bloody great estate in Oz, with only a handful of private patients to occupy his time. In my opinion, he's going stir crazy with boredom; he's never been one for hobbies or time off. Now he's got more of it than he can handle. And he's lonely, Paul; not many of our generation seem to keep in regular touch with him. He misses his friends."
Scarlet twisted his mouth wistfully. "Well, I never thought I'd say this, but I sort of miss him, too; even if the old reprobate rarely gave me a reason to think he thought of me as anything more than a gigantic headache. Eva – Doc Beige- is great and I do trust her, but somehow, it's not the same."
"Then call him. I suspect he'll regard your mysterious attacks as an irresistible challenge. He'll have you sorted in no time."
She said this with a brisk confidence she didn't feel, but was rewarded with a forced smile. "I'll think about it," he said casually, his expression neutral. She fought down her irritation.  He was playing the usual game of smooth surfaces with her, but on this occasion, she didn't want to participate.   
He saw her exasperated frown and gave her fingers a quick squeeze. "Karen, look; I'll call him, I promise," he said. "Now can we please talk about something else?"
She sighed heavily and withdrew her hand. "Very well, I'll change the subject. Did I tell you I'm selling the house in Berkshire?"
Scarlet was always amused by Karen's resolutely American pronunciation of the county name, despite the number of years she and her late husband had owned property in the UK. "I don't think so," he replied, wrinkling his brow. "Are you sure about this? I thought you loved it there."
"I do, but it's not really practical any more. If I'm serious about SvenCorp, I need to be in Boston full-time. I can't keep an eye on Peter from a distance of three thousand miles; and a degree in business management does require attendance at lectures. I was a little worried about being so far away from Mom and Charles, but he has made a good recovery from the heart attack last year and they've both been at pains to convince me they don't need a nursemaid."
Scarlet nodded his understanding. Karen's widowed mother had married Spectrum's former Commander-in-Chief, Sir Charles Gray, almost twenty years ago, shortly before his retirement at the age of sixty-five. They had moved to a pretty little village in the Berkshire countryside, and enjoyed regular visits from family and friends. But as the years passed,  their age and failing health had prompted Karen and Adam to purchase a house in the area so that they would be nearer in case of emergencies; and indeed, Karen's mother had been immensely thankful for her daughter's hands-on support during her  husband's illness. Fortunately, the former General White, an extremely sprightly eighty-three year old, had made an excellent recovery.
"Where will you live, then?" he asked. "Seeing as how Peter and his family now have the house in Boston, I mean."
I've bought an apartment in Cambridge, not far from MIT," she explained. "It's a nice area and the commute into Boston is easy. I must say I'm having fun furnishing. Freya has been a great help; she loves antique fairs almost as much as I do."
Scarlet started in surprise.  Freya Saville Svenson, also known as Lieutenant Teal of Spectrum, was technically Karen's stepdaughter. Born in complicated and unfortunate circumstances to the then Captain Blue and Cloudbase technician Lesley Saville, she had never been properly acknowledged by her stepmother until her father's untimely death. To her credit, Karen had then made a determined effort to get to know the young woman who was her husband's only child, but Scarlet hadn't realised they'd been spending so much time together.
He said lightly, "I understand now why she's asked for so much leave lately.  Be careful, Karen; you're a bad influence. You'll turn her into a spendthrift like yourself."
"I doubt it. There's far too much of her father in her for that," she replied, a shade caustically.  "It's the other way round, actually; she's teaching me restraint. Soon I'll be able to dispense with the weekly sessions at Shopaholics Anonymous."
"Very funny.  I am glad you're getting on well, though; and not before time.  Adam would have been delighted."
"Yes, he would. I'd like to believe that somewhere out there, he knows." She bent her head suddenly, muttering "Goddammit," as she foraged in her bag for the rogue used tissue. Not finding it, she dashed her hand across her eyes in frustration, smearing the perfectly applied make-up.  As he'd done before, Scarlet silently handed her another handkerchief, watching as she pressed it under her lower eyelids to soak up the moisture.
"I've been such a fool, Paul," she said at last. "I've wasted so many years in bitterness, resenting a child who didn't choose her parents or the circumstances of her birth and who has done nothing to me other than remind me of what I couldn't have; a child of my own. None of that was her fault. I know I'm lucky to have a second chance and I'm so grateful she's allowing me to make up for lost time. She's a lovely girl and Adam was rightly proud of her."
Scarlet opened his mouth to say, Adam would have been so proud of you too, when she forestalled him by abruptly rising from the park bench to deposit the remains of her meal in a nearby waste bin. He watched as she kept her face averted, brushing the golden-orange leaves off the shoulders of her jacket as they fluttered down in the breeze.
Resuming her seat, she swung a long, graceful leg back over the picnic bench, saying, "What a lovely day this is. I think I've been spending too much time cooped up in one office or another. I don't get enough fresh air."
"Me neither. Although it's debatable as to how fresh the air in New York can possibly be. It's got to be one of the most polluted places on the planet."
"True, but the Park is still a bit of an oasis, I think.  It's so peaceful. Hard to believe we're right in the heart of one of the busiest urban metropolises in the world." She directed a fleeting smile to a toddler making a determined escape from his harassed young mother by running in the opposite direction as fast as his tiny legs would allow.
Scarlet followed her gaze. "She'd better not give him too much of a head start, otherwise he'll be in the lake before she knows it," he observed cryptically.
Karen laughed. "Odd, isn't it? What drives us, I mean. As soon as we make it to full upright status, we seem determined to be off, even if we don't know why we're running or where we're going to."
"Maybe it's just pushing the boundaries. How far can we go before we fall flat on our faces? Thankfully in his case, not very far," he added, as the little boy tripped and fell face first onto the grass with a loud wail.
They watched as his mother rushed to scoop him up, soothing his screams while simultaneously checking for scratches. Finally, pacified by an ice cream cone, he was re-positioned and firmly strapped into his buggy.
Karen turned back to Scarlet. "I'm so glad we've been able to do this, Paul. I've really enjoyed it. When are you due back on Cloudbase?"
"I'll probably pick up an SPJ at the airport tonight. What about you? Are you flying back to Boston this evening?"
She shook her head. "I decided to stay over till tomorrow, maybe do a little shopping. I've booked into a hotel. Actually, I was rather hoping I could persuade a handsome man to have dinner with me."
He grinned. "I'm sure you could. Want me to see if I can find one for you?"
"Oh, you!" she retorted, giving his ankle a light kick. "I can find my own toy boys, thank you very much. In the meantime, you'll do."
"I'm flattered," he said dryly. "But I didn't exactly come dressed for dining in a posh restaurant."
"Oh, I don't know. You look fine; more anonymous than your uniform, at least. I must admit I share Major Cherry's surprise that you're not wearing it, though. Didn't think Griff would go along with that."
She caught the faint hint of guilt in his expression. "Oh, I get it. He doesn't know, does he?"
Scarlet shrugged. "We didn't have a conversation about it.  It's not like he needs to inspect me before I set out for school every morning."
"So you just decided to do your own thing. Why, may I ask?"
"Not sure. Call it a small act of rebellion, perhaps. I seem to be having a lot of them lately. 'Refusing to conform' is probably the official title."
Karen raised her eyebrows. "You've always been a maverick, Paul," she said, picking her words with care. "But you're not reckless; and no-one has a greater sense of duty or pride in the organisation than you.  So what's changed?"
"Me," he replied flatly. "I've changed. Or maybe I haven't; maybe I'm just sick of being so readily identified by a uniform.  At least if I wear civvies I can blend in. I feel like me – whoever and whatever that is." He swigged back the last of his Coke and tossed the can into the bin with a perfect aim.
Karen cast him a troubled glance but said only, "Well, don't worry about dinner. We can eat in; I have a suite at the Roosevelt. The chef there is said to be excellent." She caught the look on his face. "What? Room Service not good enough for you?"
"Karen. You've booked an entire suite for one night? Are you mad?"
"Well, it's not as if I can't afford it," she protested. "I decided it was time to look on the bright side of being a rich widow. Besides, if Adam charged me with making even more money for the family firm, surely it's only fair that I get to spend some of it?"
"True," he acknowledged. "And he always said that conspicuous consumption is what you do best, so why break the habit of a lifetime?"
"Actually, that's not what Adam thought I did best, but we won't go there," she shot back at him unexpectedly. The expression in her eyes made her meaning unmistakeable and there was a brief, awkward silence before she said quietly, "Sorry. I...don't know why I said that. It was inappropriate. I guess my sense of humour is a little off-kilter these days."
He forced a smile to cover his discomfort. "At least you still have a sense of humour," he said lightly. "I think mine went down the pan a long time ago." He glanced down at his watch. "Oh Lord, look at the time. I'd better get going or I'll be late for Cherry's summit meeting. God knows why he's insisting on it, but Seymour agreed it was a good idea. For some unfathomable reason, he wants to keep the idiot sweet."
"Well, like him or loathe him, you can't deny Stan's knowledge and experience," she replied, picking up the straps of her bag. "It's early days for Griff as C-in-C; he's probably still finding his feet. He'll want to pick brains and foster goodwill at the same time. No point in alienating people if you don't have to."
Scarlet raised an eyebrow. "Is that a quote from the Blue Gospel?"
"Probably," she acknowledged, swinging her feet back over the bench and smoothing down her jacket. "He always said that diplomacy was nine-tenths of the job; if you got that right, the rest would follow. Bear that in mind when you talk to Cherry."
"Yes, ma'am," he replied, giving her a mock salute. "I'll make nice and try not to hit him, although I'm not promising anything. Now, what time shall I be at your hotel this evening?"
"Seven o'clock will be fine. We can have a drink in the bar before dinner. Do try not to get yourself arrested for assault before then. I don't want to be stood up and have to spring you out of jail on the same night."
"I'm flattered that you'd be prepared to post bail for me. These days, I suspect that most people, especially my family, would just leave me to rot."
Her eyebrows met in a quick frown. "Why? Has something happened with the kids?"
He hesitated. "It's.....complicated. Let's just say I don't think I'm going to be nominated for any 'Father of the Year' awards."
Karen cast him a worried glance. Scarlet's relationship with his two children had never been straight-forward. His frequent absences during key moments in their young lives, coupled with the obvious 'differences' caused by his Mysteronisation, had led to awkwardness between them and at times, slight embarrassment. Despite the efforts of their mother in providing as normal an upbringing as possible, there was no doubt that the Metcalfe children had sometimes felt themselves set apart from their peers.
Scarlet's son, named Adam after his godfather, but suitably nicknamed Ace, was the more uncomplicated of the two. Now aged twenty-four, he'd inherited his father's black hair and blue eyes and his mother's easy-going, down-to-earth nature. Gentle and serious-minded, he'd shown no interest in following the male Metcalfe tradition of opting for a military career; instead, he'd chosen to take up an offer of accountancy training with his godfather's family firm, SvenCorp.
Karen suspected that this decision was based partly on rebellion. Ace would have been well aware he was probably disappointing his father. Nevertheless, the young man was doing well in his new career and enjoying a fledgling romance with Freya. Karen knew how delighted his mother would have been if she could have witnessed this turn of events; Dianne had long dreamed of a merging of the Metcalfe and Svenson gene pools, even though her husband had teased her mercilessly over her romantic aspirations.
Susannah Metcalfe, aged just twenty, was cut from a different cloth to that of her brother. Her extrovert outward presentation to the world covered a mass of insecurities and anxiety that no amount of parental reassurance could overcome. An unashamed 'Daddy's girl' as a child, in her teenage years she'd struggled to deal with the truth behind her father's youthful looks. It cast a long shadow over their relationship; made all the more difficult because she'd flatly refused to discuss it with him. Scarlet was hurt and confused at her hostility, but had accepted his wife's admonitions to leave teenage hormones alone. In any case, he'd been secretly glad to avoid any awkward confrontations and was especially grateful to sidestep the many questions he might not have an answer to.
Susannah idolised her mother and even in her most difficult years, they'd rarely fought; although Karen guessed that was probably down to massive forbearance on Dianne's part.  Their relationship was close and deep, fuelled in part by Dianne's requirement to often be both mother and father to her children and by Susie's longing for the approbation she could no longer find in her dad.
How she was coping with the death of her beloved mum, Karen couldn't imagine. She was suddenly ashamed to realise that in the depths of her own grief, she'd paid little attention to that of those close to her. I should have done more, she thought. Di would expect it; she'd want me to be there for Susie. Only as usual, I've been too wrapped up in me.
Aloud, she said, "Paul, I know you have to be some place now, so let's discuss this tonight, okay? A problem shared is a problem halved, as they say."
His face cleared. "Thanks, Kaz. I actually would like to talk about it. You know how it is; sometimes I don't see the wood for the trees. Maybe you need to point me in the right direction."
By now they were back on 5th Avenue, pretty much where they'd started from. Scarlet looked at her questioningly. He said, "I'm heading north up to Madison. What about you?"
She inclined her head in the other direction. "South. Saks is calling to me. I'll lose myself in there for a good couple of hours."
He nodded. "Okay. Don't get carried away; remember that only so many bags can fit in a taxi." He dropped a swift kiss on her cheek. "See you later, sweetheart. Thanks for the afternoon."