<![if !vml]>

<![endif]>
By Hazel Köhler
After several years of the War of Nerves, the Mysterons' complex on Mars was looking decidedly scruffy.  A non-corporeal life-form like the Mysterons had no real need for airtight buildings, so it was inevitable that dust and dirt would drift in from outside. 
With a view to rectifying this situation, the Mysterons placed an advert in the newspapers of Earth:
<![if !vml]>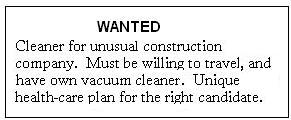 <![endif]>
They did not have to wait long.  The ideal candidate presented herself shortly after the Mysterons' advert appeared in the Plein-jour sur la Manicouagan, a weekly publication in the province of Quebec, Canada.
<![if !vml]>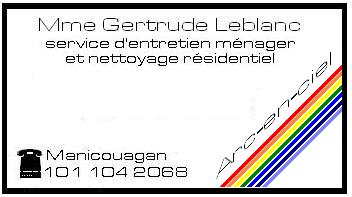 <![endif]>
Through an intermediary, the Mysterons contacted Mme Leblanc and contracted her commercial and domestic cleaning company, Arc-en-Ciel.  Transport to Mars was quickly arranged, and Mme Leblanc herself attended for the first visit of this important contract.
It was a bit of a shame, really, that the Mysterons neglected to carry out a bit of basic translation work, or, indeed, to get a few extra power sockets fitted…
<![if !vml]>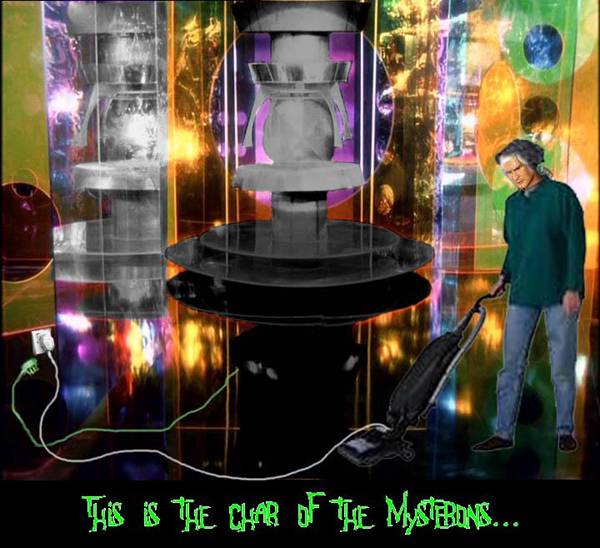 <![endif]>
Author's Note
Perhaps a little explanation is necessary here.  Several of us chat online with Chris in the evening.  From time to time, Chris's connection dies, and she has to log back in, sometimes several times in an evening.  In our usual whimsical fashion, we invented the character of Gertrude, a cleaner at Chris's ISP, who unplugs the server so that she can plug her vacuum cleaner in.  After one such connection break, the phrase "This is the char of the Mysterons" came into being, and it was only a fairly short step from there to this picture.
I'm sure everyone will recognise the three sets of numbers that make up Gertrude's phone number.  It's a shame that the Manicouagan phone code isn't 101 in reality, but at least "Plein-jour sur la Manicouagan" is a real weekly publication.
Hazel Köhler
Halloween, 2010
OTHER CAPTAIN SCARLET STORIES BY HAZEL KOHLER
Any comments? Send an E-MAIL to the SPECTRUM HEADQUARTERS site