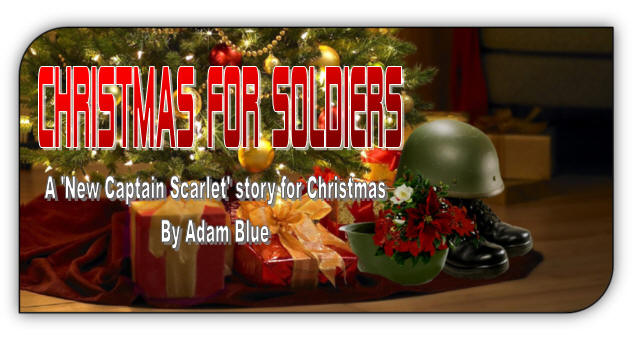 Through the big, metallic spiky gates, the three soldiers looked up at what they could see of the huge mansion, adorned with enormous angel statues by the majestic wooden front door. They were so pleased Christmas was going to be much better than they first thought three months ago. They thought there would be two of them not three.
"This is so good of the general to let us stay for a few days," Corporal David Winns said, putting down his heavy rucksack on the ground in front of him. "I didn't want to be on the streets."
"Yeah, two tours in Bereznik, and no home to go to was not fun," Corporal Zak Snow replied. "Here, we'll have a warm comfy bed and plenty of food. What do you think, Skipper? That'll be a nice change, right?"
He looked at his "right-hand" man next to him. His real name was Arnold Hinchlyn, but he was called 'Skipper' by his friends because his father, after the army, had decided to own his boat and wanted to pass it down to Arnold.
Like his two friends, Skipper was also a corporal; the three of them lived in the same area, here in Texas, and had recently received their release from the army and had came back home in time for the Holidays.
Unfortunately, when they returned, a 'home' was not exactly what they found. There had been an enormous flood, due to unusual amount of rain this time of year, and the three friends' homes had been destroyed. With no place to go, they had turned to the military base in Fort Hood, to discover that, considering the upcoming Holidays, they had very little options offered to them.
However, a good heart seemed to have taken pity of them, upon hearing of their predicament; General Svenson extended an invitation to stay at his mansion, until the three corporals would be properly put up.
Skipper nodded approvingly at his friend's question. "Shall we announce ourselves?" he asked.
Zak nodded in turn and approached the intercom set on the wall by the gates. As soon as he was close enough, a robotic voice made itself heard: "Welcome to Svenson Mansion. Please, identify yourselves."
Zak introduced himself and his friends. There was a short moment, while the intercom seemed to process the information; then, the robotic voice was heard again: "Your visit was expected and you have been authorised into the premises." There was a click and the gates opened in front of the three men. "Please proceed to the main entrance."
"Wow," Skipper whispered. "Robotised intercom. How cool is that?"
"Thank you," David said, unsure if he should indeed thank a mechanical device. I bet Adam would joke about us talking to a brick wall!" he said to himself.
Zak and David started walking through the gates while Skipper picked up his rucksack and followed the other two. The nearer they got to the decorated home the more magnificent it felt.
"This place is enormous," Skipper said looking at the mansion. "I wonder what side we will be staying?"
"Well, I don't care," David replied, checking out the pure white lion statues either side of the lawn. "It has a warm bed, that's all I'm worried about."
They reached the huge front, wooden door; it opened and the butler told them to come in. They walked in and were shown to the living room not far from the front door. The butler took their packs and explained they would be taken to their rooms.
"General Svenson will be with you very shortly. Please, make yourself comfortable"
"Thank you, sir," Skipper replied. He looked round the room. It was a nice-looking room, decorated with rich furniture. Skipper thought they didn't quite fit in, in such a surrounding. Even though they had their uniforms cleaned at the Laundromat in Fort Hood, it didn't seem it was sufficient. The uniforms were used and discoloured in some places, but unfortunately, they couldn't do much better than this.
Through the open door, they heard voices coming from the hall:
"Have you put our guests' luggage in their rooms, Michael?"
"Yes, General. Water and cookies are on their dressing tables as well and I have asked the cook to make them some hot chocolate from the kitchen."
"Thank you, Michael. You may go for now. I'll call when I'll need you again."
"General."
General Svenson walked in the room and the three men stood to attention and saluted.
"General!" The three of them said in unison.
"Gentlemen, at ease. And please, do sit down."
"We would like to thank you for the use of your lovely home, sir," Skipper said, trying to not sound too pleased. "It's very good of you."
"It's nothing," the general replied. "I don't like the fact that you have not been given temporary accommodation upon your return from your last tour of duty, considering your situation. You're soldiers, not layabouts and you should be treated respectfully. Beside," he added, "Adam will be very pleased to see you."
"Adam?" David repeated. He exchanged glances with his two friends, and then addressed the general again, correcting himself: "I mean, Lieutenant Svenson is here as well?"
"Not right now, no, Corporal. But it's Christmas soon, so he'll be home for the occasion. And he's 'Captain' now."
"The three of us served under him during the Terrorist Conflict," Skipper commented.
"I know. He kept mentioning you and how pig-headed the three of you were… Always getting into trouble. But you managed to save his life, he also told me." The general smiled.
"He saved ours as well, sir," David said. "Many times over."
"Yes, that's why he was awarded the Purple Heart," General Svenson smiled.
All three looked at each other and nodded in agreement.
"Right," the general said. "Well, it's supposed to snow later today. I hate snow, it's very inconvenient. Anyway, it's only four days 'til Christmas. If it wasn't because of all my sons being home this year, I would never have bothered to ask you to help Michael with them."
"Them, sir?" asked Zak, unsure what he meant.
"The decorations. My wife and sons still love them. Even after all these years. I, not so much. But still, if you would be so kind as lend us a hand…"
"Anything we can do to help, General," David replied. "We don't mind at all."
Later that day, after having been introduced to the general's wife who welcomed them into her house, Skipper, Zak and David helped Michael put up the decorations all around the house. It took quite a while, but it was worth it.
They quite enjoyed putting up the decorations. It kept their minds off the main problems. They were quite surprised it helped them to enjoy the season too. Skipper wasn't sure whether that was why the general let them stay here; to put these up and not him.
In the lounge, the real Christmas tree was 15 feet tall with plenty of white lights, gold and silver tinsel, and a glittering whit angel on the top. The huge fireplace was decorated with a big garland, which was green with more white lights, and covered in gold shiny baubles, which was similar to the one they had put around a big picture of the family just above it.
The hall had another big tree next to the front door; for this one, all the tinsel was red and gold. White lights wrapped the circular, wooden banister.
For the kitchen, the corporals found long green garlands, which they put all around the shelves. They added white tinsel and white flickering lights. A small Christmas tree stood in the window facing the front garden, decorated with multi-coloured lights and red, purple and green tinsel, and a golden star on the top.
It was Christmas Eve, and everyone was enjoying a traditional Christmas family dinner, with the main dish consisting of a huge, roasted turkey, mince pies, sweet potatoes and assorted vegetable, all placed around the grand mahogany table, with plenty of wine to go round. The fireplace was crackling nicely, keeping the house warm; it was snowing heavily outside, so it was much needed.
David, Zak and Skipper were very happy to have to see Adam Svenson, their lieutenant during the Terrorist Conflict. He was just slightly older than them, and they had lost contact for some years; they have been wondering what had become of him, and him of them, so their reunion had became one to talk about their experiences. Adam himself introduced the three soldiers to his younger brothers, Ben and Luke.
"What have you been doing lately, Lieutenant?" asked Zak. "Captain, I mean… Sorry. What's your unit now?"
"Oh, I've been around," Adam said. "It's very hush-hush, guys… I'm not quite at liberty to talk about it."
"I bet you're with the special commandos," Skipper added. "I mean, with that Purple Heart you got… Oh, unless it's with military intelligence? That would explain why you can't talk about it!"
Adam shrugged, not willing to say more about it, and leaving his former comrades to their speculations.
David, Zak and Skipper moved on to other subjects, and started talking about their last tour and how much they missed their friends they had recently lost: Sergeant John Hart, Mr O.C.D, Corporal Bill Mason and Private Harold Snider. They were killed in an I.E.D blast, two days before they were to return to the States.
"I'm just glad you weren't one of them, David," Adam replied. "We've been friends for a number of years… Still, it's the worst part of being in the army."
Pensively, David was moving the food around his plate with his fork. "I just couldn't believe how the morgue managed to make them look like they were in one piece." He looked directly at the general. "You probably knew them, sir. They were from Fort Hood. They trained there, before coming for their first tour in Bereznik."
The general shook his head. "I don't know every man who came to train into Fort Hood, as you can imagine. But I knew Sergeant John Hart. His O.C.D was very... Ahh... 'noticeable' to everyone. Even his bullets were in size order on a table. And the ruler, well, that went everywhere with him, just in case he saw something not quite straight."
"Wasn't he the son of Donald Hart?" Mrs. Svenson commented. "Your old friend from West Point?"
"The very same. Poor, Donald. I suppose he had been told already."
"Yes, mam," Zak confirmed. "All the families have been told how these men died. As heroes, while saving their unit."
"Well, then we must toast your friends and their families," Mrs Svenson said. She raised her glass. "To our fallen heroes: Private Snider, Sergeant Hart and Corporal Mason. May you rest in peace and also be respected in your resting place.
They all raised their glasses.
"To the Masons, Sniders and Harts," Adam said.
There was a reverent silent, as they all took a sip of their wine.
"I know how hard the Christmas Season is for all of you," General Svenson said, looking around the table. "I too have seen many of my friends die in combat, and it's always been devastating. But tomorrow is the twenty fifth. Let's make this Christmas Day as special as we can, in memory of our fallen friends."
After a wonderful meal, washed down with possibly too much to drink, the Svensons and their guests went to bed rather late.
The twenty-fifth had arrived and under the fifteen foot tree, there were lots of parcels to open. Snow was still falling outside, and there were bird claw prints on the snow-covered lawn. They all sat around the tree. Skipper was gently shaking a couple with his name on. He was like a child very eager to open his gifts.
Adam opened his first one.
"I thought this watch had stopped being made?" Adam said with some excitement, as he finished un-wrapping his gift given to him by his father.
"Yes, it had, son," General Sven replied with a hint of a smile. "But I had contact with someone who knew the maker. So I was able to make a special order, and he made it especially for you. You all got one, my sons," he added.
"Thanks, Father," Adam said with a big grin on his face.
The corporals also got a lovely watch, although not quite as special as those the general's sons had received, along with some aftershave.
Once all the presents had been opened, they all sat in the comfy seats of the living room, each with a hot chocolate and a couple of homemade mince pies. Then they started talking about previous Christmases again, and how being in the army has made the men realise how important they were, and how they were making a difference by insuring that the world was a better place.
______________________
This story was beta-read by the Spectrum Headquarters beta-reading panel.
BACK TO "FAN FICTION ARCHIVES" PAGE
BACK TO "CHRISTMAS FAN FICTION" PAGE
Any comments? Send an E-MAIL to the SPECTRUM HEADQUARTERS site