| | |
| --- | --- |
| | Fan Fiction Challenges: CHALLENGE OF FIVE |
CAPTAIN SCARLET and the MYSTERONS UNOFFICIAL WEBSITE

Maintained by Chris Bishop

For the five year anniversary of the Spectrum Headquarters. . .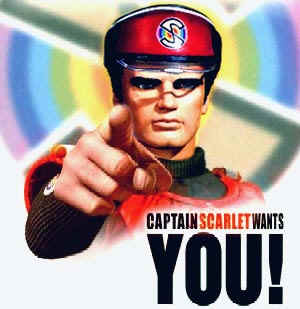 FOR THE CHALLENGE OF FIVE!
To access a list of our Challenge of Five stories , CLICK HERE.
You have a story to send us? Read our FAN FICTION SUBMISSION GUIDELINES
CLICK HERE to check our Rating System Table.
Updated: February 14, 2016 - New stories posted! See the stories page!
THE CHALLENGE:
The "Challenge of Five" is a year-long challenge created in 2006, in celebration of the 5 year anniversary of the Spectrum Headquarters website. Although we are now beyond the 10 years mark of this website's life, the Challenge is still ongoing and you still can present stories to meet the challenge. See the participation rules below.
Read the following information and rules to know what the CHALLENGE OF FIVE is all about...
The following text, originally written on January 2006, has been modified for today's presentation:
More than Ten Years ago…
A website slid gently onto the Internet.
It sat quietly and waited… people found it. People visited it – they liked it and participated.
In the first five years of its life, the website flourished. It grew. Sections were added, subjects were debated – and the fan fiction section expanded exponentially.
With more than 500 stories today – hosted on its own space, or linked to other sites – the Spectrum Headquarters site owns the largest ever online collection of Captain Scarlet fan fiction.
The site continues to grow, but those five years were crucial to its survival
And that was why, five years after its initial launch into the online community, the Spectrum Headquarters presented its FIFTH Fan Fiction Challenge. And the subject of this challenge is…

What could a 'FIVE' Challenge possibly be?
It could be a story about five characters; or a story using five different fandoms, or even five universes (think multiverses, people…). It could also be a fanfic in which the events happen during five hours, five days, five weeks, five months… It could be five years into Spectrum, or five years before Spectrum. You can also write a five part story or even submit five different stories within the same arc. Or you can get together with four others and have a story written by five authors. Or if you are really ambitious – it can be a fanfic with five threats from the Mysterons.
Anything – as long as the 'Five theme' is found within the story. There are probably other examples of 'Five themes' that you can think of, and I won't name them all. It is for you to decide what you will do!
Use your imagination – and participate to the CHALLENGE OF FIVE. It's a year-long challenge,, so you have plenty of time to present your story.
So far, since 2006, two one-shots stories and two series have been posted. At least one more story should be needed to complete the "Challenge of Five", in celebration of the Five year anniversary of the Spectrum Headquarters site! \
Do you have a story that fills the requirement for the Challenge of Five? If you think so, please send your submission or contact the webmaster at spectrum_hq@hotmail.com.
Can you answer the Challenge?
TO PARTICIPATE IN THE CHALLENGE:
Rules and conditions:
As always, the same general rules as with all previous and still running fan fiction challenges apply. They are as follows:
The story should keep true and faithful to the Captain Scarlet mythos - either Classic Captain Scarlet or New Captain Scarlet. As this site is mainly a Classic Captain Scarlet one, it is required for authors of New Captain Scarlet stories to write and/or accept a short summary in which it will stipulate that this story is set in the New Captain Scarlet Universe.

The story could be as short as one page, or as long as you wish.

You can write your story alone, or team up with another writer.

Slash stories will not be accepted, but tasteful handling of adult situations are accepted. If you are not sure, contact the webmaster.

Accepted will be one-shot stories, or five parts maximum. If more than one part, note that, to avoid an unfinished story, all the parts should be completed - at least in the planning stage - before posting.

Comedy fic and Horror-fic handled with taste are okay. 'Imaginary stories' and 'Multiverse stories' are accepted. The theme leaves you a large scope within which you are allowed to play, so be free to have as much fun as you want.

Check our Submission Guidelines before submitting your story. Take note that the use of beta-reader is not required, but recommended. Contact the webmaster for information.

There is no limit of time to submit a story, as it is a year-long event. Nor is there a limit to the number of stories you can submit, if you feel so inspired!

The story will be accessible to the public once it has been read by the webmaster and/or beta-reader (if any) and accepted into the Challenge. If you require the service of a beta-reader, ask the webmaster about finding one.
Remember that all the information presented on the Spectrum Headquarters site can serve as tool to help you write your story, whenever you need useful details for it. If there is a question the site does not answer, feel free to write me. The question will be submitted to the website collaborators. If you are a member of the Spectrum Headquarters forum, you are also free to use the Fan Fiction section for help!
As always, submitted projects will be presented on this page.
Authors who have presented one story or more in the past are invited as well to participate to this challenge, as they're in part responsible for the success of the Fan Fiction section of this site!
People interested in contributing or having any questions or comments, can contact the webmaster at spectrum_hq@hotmail.com.
RISE UP TO THE CHALLENGE OF FIVE!
To access a list of our Challenge of Five stories , CLICK HERE.